The seven years Truman and Moya Parmele owned Ashland Coffee & Tea were not without hardship.
First came the downpour. Not long after the couple acquired the business in 2009, "six inches of rain came down in 15 minutes," they said, seeping into and damaging the shop. The Parmeles spent $7,000 on repairs.
Then Moya Parmele started to experience health problems in 2012. Those problems persisted through October of last year, when Truman Parmele suffered a heart attack. It became increasingly difficult for the music-loving, retired pair from Northern Virginia to tend to the shop.
"I was doing a half-assed job at two places," Truman Parmele said, referring to his proprietorship of the coffee shop and caring for his wife.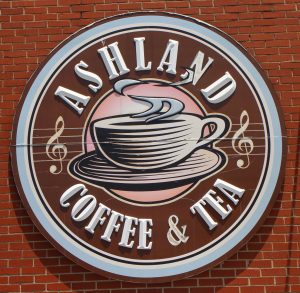 The Parmeles knew they had to sell.
As it turned out, they didn't have to look far to find a buyer.
Founded by Jim and Mary Leffler in 1996, Ashland Coffee & Tea brought a new gathering spot – and notable music acts – to the town situated along Amtrak's Northeast Regional route.
Concerts in the venue's "Listening Room" played five nights a week, attracting crowds from the Washington metro area and across the commonwealth. Cyclists trekking nearby trails often converged there during pit stops. The shop, located at 100 N. Railroad Ave. in downtown Ashland, maintained a loyal group of morning customers and evening concertgoers.
Gian Pimpinella was one of those longtime frequenters. A native of Connecticut, Pimpinella first visited the store 20 years ago upon moving to the Richmond area. He moved to Ashland around the time the Parmeles took ownership.
"The general consensus is that the place has gone downhill for several years," Pimpinella said. "I see a lot of potential in the place."
So Pimpinella decided to purchase the shop. The self-financed deal became official June 1, but Pimpinella had scouted Ashland Coffee & Tea since April to learn the business, survey for possible renovations and bring the establishment up to Ashland and Hanover County codes.
With the deal, Pimpinella will take over the lease and assets for the business. The building that houses Ashland Coffee & Tea remains under the ownership of Harvey Stebbins.   
The acquisition is Pimpinella's first independent business venture. He previously worked for Chesterfield County and holds degrees from Clark University and the University of Tennessee, Knoxville. He also took courses from Virginia Commonwealth University's School of Business.
While Pimpinella said he wants to continue welcoming the shop's regulars, he also plans to attract students from nearby Randolph-Macon College. Despite it being just a block away from the 1,400-student campus, Pimpinella said the store doesn't attract as many college students as he'd like.
To change that, he plans to book a wider variety of musical acts, such as rock and pop groups. Ashland Coffee & Tea has long been known to host primarily folk and bluegrass concerts.
The changing lineups will come with a temporarily reduced number of show offerings, Pimpinella said. He will scale back concerts to three days a week: Thursdays, Fridays and Saturdays. Ashland Coffee & Tea had recently featured a "Songwriter's Showdown" – a songwriting and vocal performance on rotating Tuesdays.
Pimpinella cited low attendance figures at weekday shows as the primary reason for scaling back concerts.
"There's nothing more depressing than booking a show and only having three or four people come in," he said.
He continues to review music contracts made under the previous ownership but said most of this summer's shows will still occur.
Despite the changes, Truman Parmele said he isn't worried about the new direction of his former establishment. He and his wife still plan to attend shows there and assist Pimpinella when needed.
"So far it seems like he knows what he's doing," Parmele said.
In addition to self-financing the purchase, Pimpinella is also funding renovations to Ashland Coffee & Tea. He bought a new point-of-sale system, renovated restrooms and is repainting the interior gray. The store temporarily closed Friday to accelerate renovations, done by employees and friends of Pimpinella.   
"For the time being, I'm going to be living and breathing this place," he said.
Other additions include a kitchen manager and revamped menu. Ashland Coffee & Tea signed Sysco for new food products and Carytown Coffee for its caffeine fix. It will also scale back from three beer distributors to one.
Tom Wulf, executive director of the Ashland Main Street Association, said Ashland Coffee & Tea "has always been a destination for the region."
"We're just excited that there's new ownership and these upgrades are planned and underway," Wulf said.