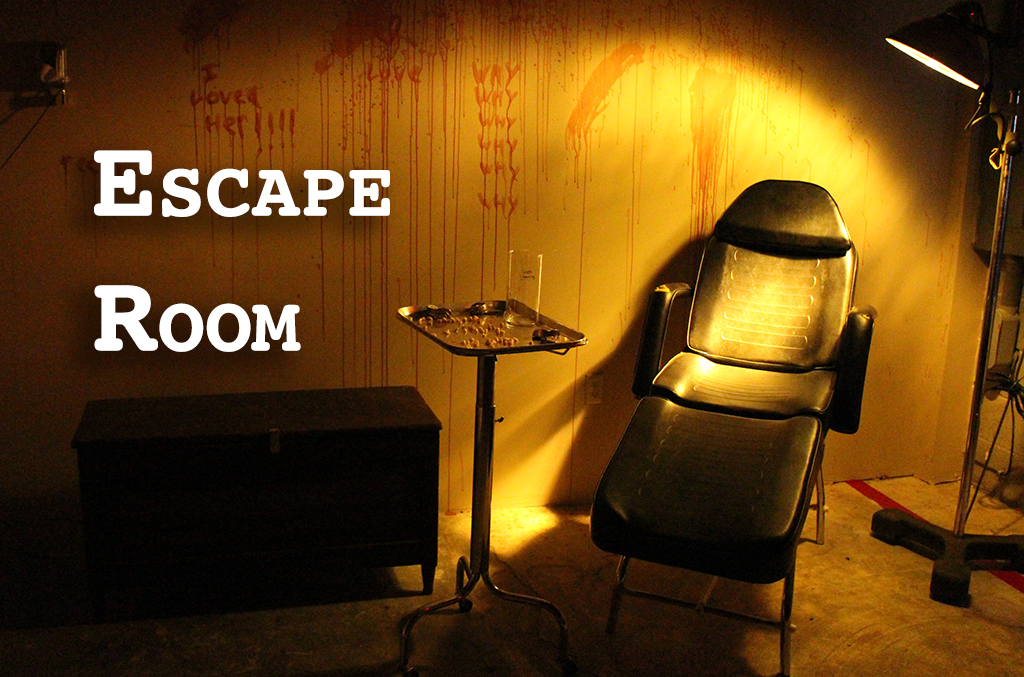 First it was frozen yogurt. Then came breweries. Now, escape rooms are proving to be the new Richmond startup trend that's growing increasingly competitive.
Two more live-puzzle adventure outposts have opened in the West End in recent weeks.
Josh and Ashley Thornhill and Brandon Clark opened Room Escape USA on July 16 at 3504 Mayland Court near the intersection of Gaskins Road and West Broad Street.
Like other escape rooms around town and across the globe, Room Escape USA's 3,000-square-foot space hosts live-action puzzle adventures that take place in different themed rooms. Room Escape USA rooms can handle teams of up to eight people that have one hour to achieve the room's goal.
For the moment, Room Escape USA's only open room is called Dr. Ensaine. The premise is that the players are visiting for an appointment with the dentist, but Room Escape USA has been hearing odd rumors about Herr Doktor and it's up to the players to figure out the real story.
"The story develops as they progress," Josh Thornhill said, adding Dr. Ensaine has overtones of B-movie horror.
Thornhill is a former leased car inspector for an auction house in Chantilly. Ashley Thornhill is in the Air Force full-time and is currently stationed in Germany. The couple was neighbors with Clark, who was also stationed with the Air Force in Germany. The trio visited about 30 escape rooms in Germany, Netherlands and Belgium. Thornhill said European escape rooms are a bit more demanding than the kind found in the USA.
"You literally get locked in," Thornhill said. "We've been handcuffed."
Thornhill said it cost about $80,000 to open Room Escape USA and that it was financed with a combination of cash, investment money and family help.
It costs $27 per person to visit Room Escape USA, and the company has different packages designed for corporate teambuilding.
Thornhill, a Culpepper native, said Room Escape USA's West End location has space to add rooms. Another room is planned to be unveiled this weekend, it's working on a room for one person at a time, and a fourth room is in the works.
The other new local player is River City Escape Room, which opened this month at 8047 W. Broad St. in a former 3,400-square-foot laundromat in the Westland Shopping Center.
The venture is helmed by husband-and-wife team Sam and Jen Williams, who are backed in part by Sam Williams' siblings, Sandra Wittenborn and Stephanie Marcus, a co-owner of Jumpology at 10087 Brook Road.
River City Escape Room has two rooms currently open. The first is a 1920s speakeasy theme where players take on the role of a greedy bar owner trapped in a room by aggrieved employees with the police on the way. The second room is a Sherlock Holmes-style mystery in which players have to find an eccentric magician's actual will before a forged one gets executed. A third room scheduled to open this weekend invites players to take on the role of art thieves looking to purloin a priceless piece of art.
Sam Williams said the idea is to make people forget about their normal lives.
"We create an environment that takes you away from reality," he said.
Williams said it cost about $100,000 to open River City Escape Room. The investment came after he and his wife visited an out-of-town escape room about 11 months ago. They then tried Escape Room RVA and decided there was plenty of room to open a local escape room of their own.
Jen Williams runs the venture full-time, and Sam works on it when he isn't working as a technology manager for a local bank.
It costs $25 per player at River City Escape Room, and up to 10 people can participate in each room. Like its peers, River City Escape Room caters to individuals and corporate groups. Sam Williams said one demographic in particular likes the live-action puzzles.
"These Millennials love escape rooms," Sam Williams said. "It keeps them off their phones."
There are at least two other escape room ventures operating locally: Real Escape Room Richmond and Escape Room RVA.
Thornhill said seeing escape rooms cropping up in the states was an encouraging sign for his business.
"I know hundreds have opened in the states – it's a growing trend for sure," he said.