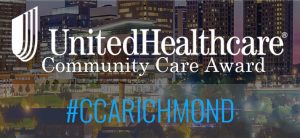 One of the nation's largest health insurers is giving a handful of local companies eight minutes each for their chance at a $10,000 shot in the arm.
Minnesota-based UnitedHealthcare recently announced the five finalists for the first-ever Richmond edition of its Community Care Awards, a contest designed to fund projects that could enhance the health residents in the area.
The insurer received about a dozen applications for the Richmond contest before settling on the five finalists. Eligible participants were companies with between two and 100 employees whose idea must incorporate an area nonprofit that will help implement and benefit from the project they submitted.
The five finalists will make their 8-minute pitch to a panel of judges Wednesday afternoon at BizWorks, a shared office space and business hub for small businesses at 2545 Bellwood Road in Chesterfield County. A two-minute question and answer session will follow.
Local businesses set to make their pitch for the cash prize include:
Emerge Sustainable Solutions: A Richmond-based environmental conservation and sustainable energy firm looking to construct portable, solar-powered gardens called a "GrowBox" in communities that lack access to fresh fruits and vegetables.
Outside In Ministries: A Chester-based ministry seeking to educate and equip individuals in the church to help mentally ill congregants, and their families.
Simply Ballroom: A Richmond-based organization that teaches ballroom dance to people with Parkinson's disease.
Virginia is for Education: Based in Williamsburg, this organization that hopes to serve as Charles City Elementary School's mobile fitness trailer for 20 days of the 2016-2017 school year. It's equipped with 30 stationary bikes, surround sound and video.
Visitry: Headquartered in Richmond, this company wants to enable people aged 65 or older to better benefit from face-to-face social interaction with registered, vetted visitors through its mobile app and website.