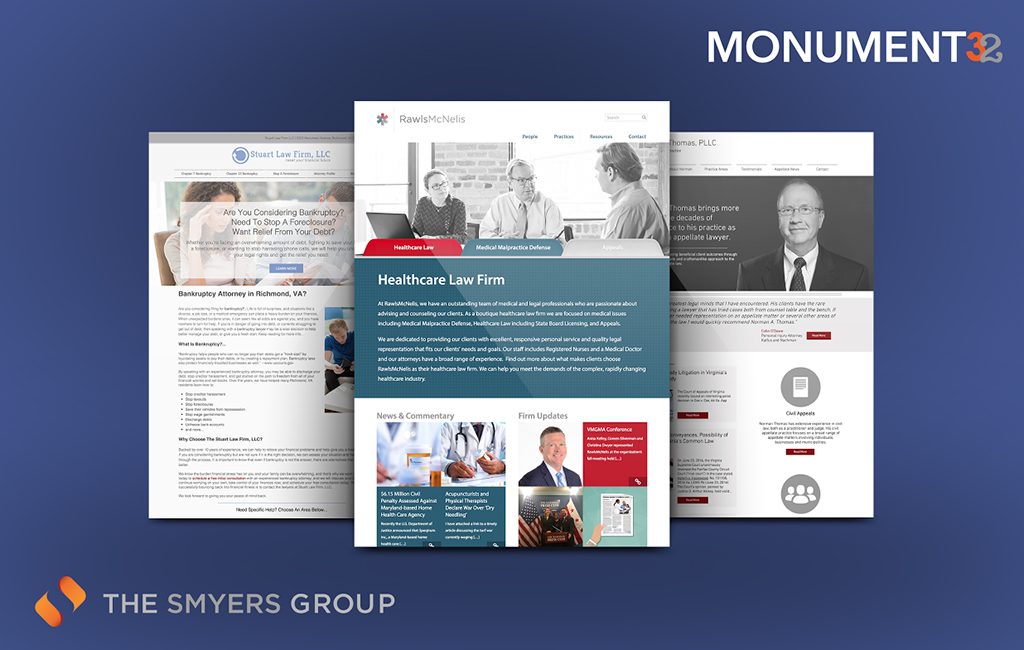 A recent streak of local marketing firms opening sister companies specific to small-business clients is becoming more niche.
The Smyers Group, a Glen Allen-based marketing agency tailored to small and medium-size law firms, has launched Monument32, a small-business-specific startup that will provide a suite of services to firms with about 10 lawyers or less.
The new business will share The Smyers Group's Innsbrook office and staff but otherwise operate as an independent company, said president Matt Smyers, who founded his namesake firm five years ago. The move is in a similar spirit to two other local spinoffs: branding agency Yogg's sister startup Karv, and Red Orange Studio's small-business division Slice, both of which launched earlier this year.
Smyers said he befriended Yogg's Adam Mead after they worked on a law firm project 10 years ago, and followed his lead in starting a small-business-specific version of his company. He said he similarly saw a need to provide a separate business model for smaller clients wanting certain services faster, and at set prices.
Where The Smyers Group operates as a full-service agency, Monument32's services are restricted to three services – website design, online marketing and logo design – with set prices for each: $1,500, $750 per month and $500, respectively. Prices are maintained through an established suite of services, such as five pre-built website design themes, Smyers said.
"I started to realize, much like Adam's situation with Yogg and why he decided to start Karv, that we wanted to continue to serve solo practices and small firms with those streamlined services, but it became difficult to manage those accounts under the same platform and methodologies that we were using with The Smyers Group," he said.
A non-practicing attorney, Smyers graduated from the Widener University School of Law in Pennsylvania and practiced in the medical malpractice insurance defense industry before trying his hand at entrepreneurship. Brought to the area by his wife, Richmond native Beth Smyers of The Smyers Law Firm, he partnered in several businesses that led him to the marketing industry and eventually to founding The Smyers Group in 2011.
Smyers said his experience as an attorney and in marketing makes his four-person firm more familiar with the marketing needs of law firms, particularly those operating on smaller budgets.
"Most large-scale online marketing service providers don't understand the nuances of marketing a law firm," Smyers said. "Law firms, like other industries such as banking, have restrictions on how they can market themselves. Any marketing agency serving law firms needs to understand those regulations, which is where our experience with over a decade of marketing law firms and my experience as an attorney come into play."
Challenges facing law firms with marketing, Smyers said, include restrictions on referring to themselves as an expert in their field and requirements for disclaimer language on advertising materials.
Smyers declined to identify his companies' clients without their permission. He said clients range from solo practices to firms with about 10 lawyers. Where The Smyers Group's clients are regional, he said, Monument32's services would be marketed nationwide.
Smyers launched Monument32 in late October with three existing clients he moved over from The Smyers Group's roster. He said he's aiming for the new company to build 50 law firm websites and add 50 monthly marketing clients in its first year, adding staff as needed.
While Smyers and other agencies have been spawning sister spinoffs, other agencies in town have been pooling their resources. Local digital marketing firms WebStrategies and Impression Marketing recently merged, SB&A Integrated Marketing joined Kansas-based GlynnDevins, and AuthX recently picked up fellow digital firm Create Digital.