Plans for a rapid transit bus line along Broad Street in Richmond could bring a new business zoning district to the city's hottest neighborhood.
At a meeting of the Scott's Addition Boulevard Association on Wednesday, city planners proposed amendments to the city's land use plan that would change the neighborhood's zoning primarily from M-1 light industrial use to B-7 mixed-use business district, in conjunction with the adoption of a rapid bus line – called GRTC Pulse – that would run from Willow Lawn to Rocketts Landing.
The changes could also introduce a new zoning district – B-8 – that would allow some uses currently allowed in B-7, such as multifamily residential and pedestrian-oriented commercial uses such as breweries, retail, office and restaurants, but with taller building heights – 12 stories maximum – and no parking requirements. Parking would instead be determined by the market.
If approved with a broader update to the city land use plan next year, the new zoning could be applied to properties along the Boulevard and Broad Street corridors that border Scott's Addition to the east and the south.
The proposals would also eliminate the need for property owners in Scott's Addition to obtain a special-use permit (SUP) to convert former industrial properties for residential use – a move aimed at encouraging investment in an area that has seen rapid development in recent years, said Mark Olinger, the city's director of planning and development review.
"Our goal is to help create opportunities for new development, both economic and residential, along the Pulse corridor in a way that is respectful of the surrounding uses but creates this opportunity for creating its own sense of place as well," Olinger said after the meeting.
"What we're trying to do is say: Are there a mix of uses and building types in this area that will provide for population density, potential for job growth, to help continue to build that momentum that is clearly occurring in Scott's Addition over the last few years," he said. "Here's another way to build on that vitality for that area and maybe provide opportunities for a building type – a maximum of 12 stories – that's not immediately present there but could add some additional value to the neighborhood."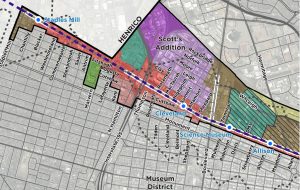 Where B-7 zoning allows for five stories in height, with potential for six, and B-4 allows for significantly taller buildings, Olinger said B-8 would be aimed at allowing something in between – "mid-rise" buildings anywhere from two to 12 stories.
"We have B-4, which is a very intense downtown zoning district, but we don't really have a zoning district that provides for what we would call more mid-size buildings," Olinger said. "The idea was to try to find a mid-range zoning district that would allow some intensification of use but would be of a more mid-size scale, and make it easier for people who wanted to do something like that to have the ability to work within existing zoning to make that happen."
If supported by the public and city governing boards, the zoning changes would be introduced to city council early next year and potentially adopted in the first or second quarter. City staff is presenting them in a series of neighborhood meetings that started in mid-November. Olinger said the changes would also be presented in an update to the planning commission at its meeting this Monday.
Other changes to be considered by the commission include the removal of parking areas as a principal land use and reducing off-street parking requirements for dwelling and lodging uses in B-4 and B-5 central business districts.
Olinger said the presentation on Wednesday was the first public discussion of the proposed B-8 zoning. At the association meeting, he told a crowd of business owners, residents and several prominent developers that nearly all residential conversion projects proposed in Scott's Addition are getting approved by the city. Eliminating the SUP requirement would facilitate that process and cut down on costs and time involved.
"We are trying to create opportunities in places where we think the opportunities exist," Olinger said. "We're not interested in trashing the abutting neighborhoods. We're trying to help create opportunities for high-quality infill development along the corridor in those places where it needs it."
Andrew Basham, a principal with Spy Rock Real Estate Group who also serves on the Scott's Addition Boulevard Association board, was among several developers active in the neighborhood in attendance at the meeting. He said the changes proposed would be good for the neighborhood while also freeing up the board and city staff to focus on bigger-picture issues such as traffic, parking and street lighting needs.
"There are some major projects planned for the neighborhood – not just within the existing boundaries of Scott's Addition proper but also within the greater Scott's Addition-Boulevard area," he said. "With that kind of growth, we need to consider the way that our streets run. There are a number of blocks in the neighborhood that don't have sidewalks. Those are the kinds of basic things that we need in the neighborhood."
Spy Rock's projects in Scott's Addition include a 55,000-square-foot commercial building under construction as part of its mixed-use development of the former Symbol Mattress Co. building at 1814 Highpoint Ave. Other projects in the works in the neighborhood include redevelopment of the former HandCraft Cleaners building at 1501 Roseneath Road, two six-story towers proposed by Historic Housing at 1400 Roseneath Road, and Better Housing Coalition's planned conversion of the former Quality Inn & Suites building at 3200 W. Broad St.
Basham said the proposed B-8 zoning district, which he summed up as the "big height, no parking" category, wouldn't result in a lack of parking or a surge in taller buildings along the Boulevard and Broad Street.
"If you put in a zoning like that, the market will determine the appropriate density, scale and parking ratio in order to build a successful project," he said. "Nobody's going to build something that's going to be unsuccessful, in my opinion, just because a zoning category says you can do it.
"I think they'll find resources to ensure that their project is physically and economically sustainable," he said. "I certainly don't think we'll see a rush to build 12-story buildings with no parking along Broad Street."
Andrew Clark, director of government affairs for the Home Building Association of Richmond, was also in attendance at the meeting and lauded the changes proposed for Scott's Addition.
"There is immense economic development potential along the Pulse BRT corridor, especially in Scott's Addition," Clark said in an email. "The current master plan did not foresee the type of dynamic community that we have seen spring up in Scott's Addition over the last several years. It has emerged as a housing, entertainment and business hub in the city.
"This process is about reshaping the long-range vision for this neighborhood and laying the foundation for continued investment in new housing, commercial and recreational opportunities," he said. "The city has been proactive about soliciting feedback from residents and the business community, which is absolutely critical to this process."