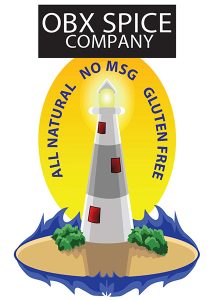 Richmonders are making a habit lately of turning personal recipes into business ventures. A Midlothian couple's time on the Outer Banks was the inspiration for the latest iteration.
Larry and Lisa McClanahan recently launched OBX Spice Co., an online shop producing cooking spices that are both flavorful and healthy.
At an Outer Banks beach one summer night in 2015, Larry joked to his wife that she ought to publish a cookbook or have her own cooking show.
"She laughed, and said, 'You know, I wish I had healthier ingredients for everything I cook,'" Larry said. They had both wanted to start eating and living healthier, but didn't want to sacrifice flavor.
They got to thinking and saw an opening for a gluten- and MSG-free product line.
They returned home and went to Old Mansion Foods, a custom and wholesale spice company in Petersburg. Old Mansion worked with the McClanahans in its lab, testing and tweaking different spice combinations.
"It took us six or eight months to come up with blend we wanted," Larry said. "There's a lot of spices we've had to leave out to keep up with criteria of having no MSG and being gluten-free."
Feedback from a taste test of the spices at a supper club with friends pushed them further.
"Lisa and I said, 'If this is good, and we're serious about living healthier, and we can't find a comparable product on the market, maybe we should go for it,'" Larry said.
They launched OBX Spice Co. in recent weeks after building a website, working with Old Mansion to make sure they meet FDA regulations, and getting a sales license. Their daughter, a VCU art school graduate, helped design the company logo.
The venture is a self-funded side project for now, run out of their house, with Lisa and Larry as the company's two employees and co-owners. Larry works full time in financial and wealth management, and Lisa is director of development at Millwood School.
"We're excited about it. It's fun, and also a profitable venture," Larry said. "There's a big movement of people taking better care of themselves. This will help give them some flavor with it along the way."
OBX Spice Co. offers steak, poultry and seafood seasoning, with two new offerings planned for 2017. The products are sold in 4-ounce shakers and start at $9.
The startup's spices are available only through the OBX Spice Co. website, but Larry said it's working to offer them in local markets and on Amazon.com.
"We've got a schedule of festivals and events we'll be at this year, including The Market at Magnolia Green," Larry said.
The McClanahans join a few other Richmonders who've recently turned their home-cooking hobbies into business ventures.
In the fall, A Peach in a Pear Tree relocated to Midlothian after owner Alicia Darnell's butter pecan cake went viral, and Ames Russell's spicy honey started as a gift that quickly became much more.