The Richmond region hasn't had a professional hockey team since 2009.
That was on the heels of the recession, when the Richmond Renegades folded after playing at the Richmond Coliseum on and off for 16 years.
Now, a local group of hockey fans believe they have a chance to bring a hockey team back to the city, fueled in part by grabbing the ear of the new mayor.
The group is led by Alan Sams, a dyed-in-the-wool Richmond hockey fan. As a kid, his step-dad took him to Richmond Robins games in the 1970s, and through the 1990s he was a regular in the Richmond Coliseum stands at Renegades games. Currently, Sams is the PR Director for the Richmond Generals, a junior hockey team, and also does marketing for SkateNation Plus, an ice rink in Short Pump.
Sams started a Facebook page, "Bring Hockey Back To Richmond," in 2012, and the effort has picked up steam lately.
"Hockey fans are pretty intense–we tend to make a lot of friends with each other when we have a team," Sams said. "The page started as a place to share rumors, talk about the old days, catch up with friends made when we had hockey here."
Sams has been cultivating relationships with officials at the Coliseum, which is owned by the city, and the mayor's office. When Levar Stoney took office as mayor, Sams started a Change.org petition to bring hockey back to Richmond.
Stoney, in a recent interview with ESPN 950, said he's been hearing it from supporters of the idea.
"Trust me, in my time, 24 or 25 days thus far in this office, the number of emails I've received about people who would love to see hockey back in the city of Richmond… have been flooding my inbox," he said.
Sams liked what he heard.
"That was the first time I've heard a city official utter the word 'hockey.' For me that was a win," he said. "The mayor change helps, (Stoney) is a younger, progressive guy who understands that we're here."
Allan Harvie – perhaps more than anyone in Richmond – knows what it would take to bring a team back to the city.
Harvie started the Renegades in 1990 and sold the team three years later to a group that ran it until 2003. From 2003 to 2006, the Richmond RiverDogs played in the United Hockey League, but moved to Chicago and later folded. Then in 2006, Harvie started the Renegades again from scratch, running it until 2009.
Harvie outlined several issues that stand in the way of hockey coming back to Richmond.
"The first problem is that for every pro sport, sports at every level, the attendance has gone down over the last 10 years, and it's gone down every year," Harvie said.
"You have to capture the youth market…. If you don't have that base, you have a problem. You can have folks who are upper or middle age, but in order to keep it going, you need a young fan base."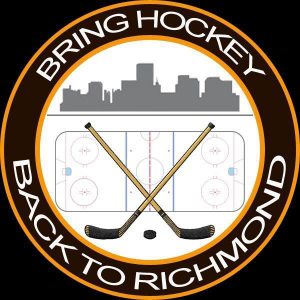 The second issue, Harvie says, is a venue. In his time as Renegades owner, he said he always had a great relationship with the Coliseum's staff and management, but the venue's been neglected by the city.
"There's no money allocated in Richmond for upkeep of the Coliseum," Harvie said. "We've played hockey in there, and there's been basketball games played with leaks in the ceiling. It's nothing that would support a pro hockey team."
Harvie said the Coliseum has focused on other events like concerts, which are booked far in advance. That makes scheduling hockey games an issue.
"There are no prime dates available. You could get everything in: The money, the team, the boards, the ice, and it'd be great. But there'd be no dates to play."
Third, Harvie said there would need to be a revitalization of the area surrounding the coliseum in order for a hockey team to succeed.
"There's nothing in the area (around) the coliseum that would entice someone to do something pre-game or post-game," Harvie said. "It's a ghost town. You can't go grab a meal then walk to the game."
And lastly, and perhaps the biggest bear, is the cost.
Harvie said he started the Renegades in 1990 for $1,000. Today, it would cost at least $1 million to start a team, not including other league costs like franchise fees.
"You'd have to have at least half to three quarters of a million dollars before you even do anything," Harvie said.
The East Coast Hockey League and Southern Professional Hockey League are Richmond's most likely would-be suitors. The Renegades used to play in the ECHL, and SPHL President Jim Combs said he's aware of Richmond's passionate fan base.
"We have a team in Roanoke that's doing well in their first year in the SPHL. Virginia's a great place for hockey," Combs said. The Roanoke Rail Yard Dawgs average around 3,000 fans per game, which is the league average.
For a new team to form in the SPHL, Combs said it all starts with ownership.
"If an ownership group contacts us, saying they want to be in SPHL, we'd work together to negotiate out how a lease would look. We'd go through the business plan to see how they'll make the hockey team be there long term, how to make it affordable, family friendly, and exciting," Combs said.
While Allan Harvie said it'd be tough to run a team in Richmond, he's not ruling anything out.
"Altogether, it doesn't paint a very pretty picture for anyone who wants to put a sports team at the Coliseum," Harvie said.
"I would love to get hockey back here, I'd be jumping up and down. I'd be the first one to support the team. It's just a huge financial challenge."
Meanwhile, Sams is inspired by the change at City Hall, but acknowledges hockey's return won't happen overnight.
"I always tell people, until you're sitting in a press conference, watching the new owners be announced, there's no guarantee. I feel really optimistic right now, like things are going in the right direction. It's the first time I can say that in a long time," Sams said.