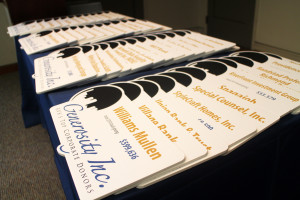 How charitable was your company last year?
That's the question BizSense aims to answer once again with our annual Generosity Inc., a data list and event program that ranks and recognizes the most philanthropic businesses in the Richmond region.
For the fourth year, we're back urging area companies to tally up your firm's total giving in 2016, submit the numbers for the list and help us shine a light on the health of Richmond's nonprofit sector.
The list is open to both locally based companies and out-of-town firms with local operations, and is ranked by total giving to local charities during 2016. It also will highlight companies' largest single gifts, national giving and names of many of the local charities that benefited from the generosity throughout the year.
Your company's participation will earn you a place on the Generosity Inc. list, which is open to the public, and an invite to an event honoring the dozens of companies in the rankings.
Last year's list was the biggest yet in terms of total dollars reported, with 44 companies giving a combined $25.15 million to area nonprofits in 2015.
The list included Fortune 500s like Altria, Capital One, SunTrust, CarMax and Genworth, as well as local banks, law firms, grocers and small- and medium-sized businesses giving to a variety of causes.
Totals ranged from $13 million to $500, showing that every bit counts, and that your company needn't be bashful if you gave a lot or a little. Make it a point of pride to be listed among your competitors and to display your company's good deeds and the impact they have on the nonprofit community.
The list will be published April 10. Deadline for submissions is April 7.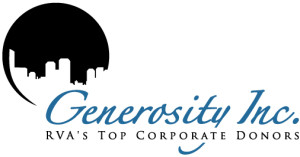 If you've previously filled out any BizSense Lists over the past few years, there's no need to fill out a new survey. Our researcher likely already contacted you to get any information we need.
If you have not been on a BizSense List in the past, please follow this link to have someone from your firm complete the brief survey.
Thwarting procrastination this time of year is key. So if you're the big boss at a company, make sure you and your employees aren't left out. If you're the person in charge of a company's giving programs, don't let your competitors outshine you. If you're a local nonprofit that's proud of the support you receive from local businesses, please encourage them to participate.
Click here to check out the scenes from last year's Generosity Inc. event at Hardywood.
Details for this year's event are still to come. Stay tuned.