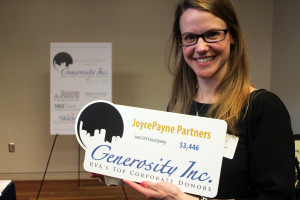 Few activities pair better together than enjoying a few cold beverages and celebrating the charitable endeavors of local businesses.
Richmond BizSense will accomplish both April 26, as we gather at Triple Crossing Brewing's new facility in Fulton Hill to honor dozens of companies in our fourth annual Generosity Inc. event, presented by Sands Anderson. Tickets are on sale at our Eventbrite page.
Generosity Inc. honors both locally based companies and out-of-town firms with local operations, and tallies up businesses' total giving to local charities during 2016. It also will highlight companies' largest single gifts, national giving and names of many of the local charities that benefited from the generosity throughout the year.
Each company on the list gets one complimentary ticket and the rest of the room will be filled with representatives from like-minded philanthropic firms and nonprofits enjoying food, drinks and valuable networking.
Take a look at scenes from last year's event here, and check out last year's rankings. It includes companies large and small – and dollar amounts from all sides of the spectrum.
If your company hasn't already submitted your numbers, the deadline for the Generosity Inc. list is Friday, April 7. Here's a link to the survey, or email our researcher Michelle Pearson at [email protected].
We aim each year to have as many companies on the list as possible. So if you're the big boss at a company, make sure someone from your firm completes the survey. If you're the person in charge of giving programs, don't let your competitors outshine you.
If you're a local nonprofit that's proud of the support you receive from local businesses, please encourage them to participate. If you know of a generous company that may shy away from receiving a little recognition for its effort, give them a nudge.
And thanks to all of you that already have submitted your information.