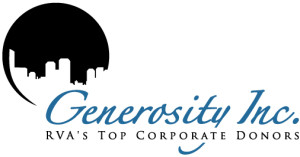 The spirit of giving was alive and well among Richmond businesses last year.
Fifty-one local companies gave a combined $33.7 million to area nonprofits in 2016, according to Richmond BizSense's annual Generosity Inc. tally, released last week.
That's up from the 2015 count, when 44 local companies gave a combined $25.15 million to area nonprofits.
More than half the companies on this latest list reported increased charitable giving in 2016 compared to 2015.
The annual Generosity Inc. list, now in its fourth year, chronicles the philanthropy of businesses that either are based in or have operations in Richmond and is ranked by local giving in the prior calendar year.
The list was topped – as it has been since it began – by Altria.
The tobacco giant once again far outpaced the rest of the pack with $13.76 million given to local charities in 2016, up more than $500,000 from 2015. Its top local beneficiary was VCU, which received Altria's largest local gift last year of $1.62 million. Its other recipients included UVA and Goodwill Industries of Central Virginia & Hampton Roads.
Altria was followed in the top 3 by Dominion and Wells Fargo, the latter of which participated in the list for the first time this year. Dominion and its Dominion Foundation reported $6.2 million in gifts to local charities, on par with its number from 2015. Its top local recipient was the Richmond Performing Arts Alliance.
Wells Fargo reported $4.26 million in local giving, the largest percentage of which went to Southside Community Development & Housing Corp.
The rest of the top 10, in descending order: Capital One, CarMax, TowneBank, Kroger, Williams Mullen, Genworth and Impact Makers. The top 10 accounted for about 95 percent of the $33.7 million total.
Certain industries had stronger showings than others on the list.
In addition to CarMax, several auto-related businesses were ranked, including Haley Automotive, McGeorge Toyota and Midas of Richmond, which gave $240,000, $158,000 and $111,000 to local charities, respectively.
Other law firms joining Williams Mullen on the list included Locke & Quinn, Perkins Law, Gavin Law Offices and Parker, Pollard, Wilton & Peaden.
Aside from Capital One and Wells Fargo, financial institutions on the list were: TowneBank, M&T, Village Bank, Call FCU and SunTrust.
Three accountants opened their books for the list: Keiter, Dixon Hughes Goodman and Kirby & Associates.
You can find the full list here. It's open to everyone.
The 51 companies will be honored at the Generosity Inc. event, presented by Sands Anderson on April 26 at Triple Crossing Brewing. There are only a handful of tickets left, to be purchased at our Eventbrite page here.
Thank you to all the companies that participated this year. Each entry on the list gets us closer each year to the goal of building a more complete picture of the reach of corporate philanthropy in Richmond.
Now for a call to action to all local business next year:
Obviously, there are far more than 51 companies operating in the Richmond region, so for any of you reading this that didn't participate in the list this year, please consider doing so next year.
If you know of any philanthropic companies that should be recognized, please encourage them to complete our survey next spring or email us and we'll try to track them down for next year.
If you didn't participate in this year's list but want to make sure you're not left out next year, please email our research Michelle Pearson at [email protected]. She can add you to our contact list to make sure you get the survey instructions next spring.