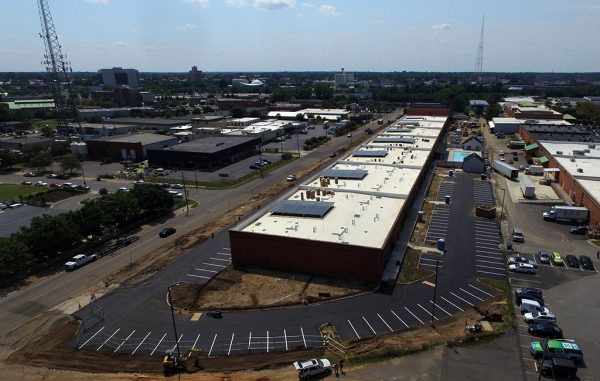 A redeveloped old tobacco barrel warehouse will be the setting for the latest installment of Richmond BizSense's popular Hard Hat Happy Hour series.
Our next quarterly gathering, presented by Sands Anderson, is set for Thursday, Sept. 14 at The Cooperage, a sprawling new $18 million apartment development in the works from David White and Louis Salomonsky's Historic Housing at 1650 Overbrook Road, near The Diamond.
Tickets went on sale today at this link.
Guests will get an inside glimpse as the project's 117 units take shape in the guts of a structure that stretches the length of nearly three football fields.
The developers will be on hand to discuss how they designed around the building's formidable shape and how they're betting its proximity to Hardywood brewery plays into their plans.
The story of the Cooperage dates back nearly five years ago, when Historic Housing bought the 137,000-square-foot property at auction for $1.8 million. It had been owned by Charles Keck.
Brian White, son of David White and head of their property management company Main Street Realty, said Historic Housing got to know the neighborhood after doing a prior project nearby.
"Probably 15 years ago that part of town was a ghost town," White said. "There was nothing happening there.
"We bought the old Todd building (now Todd Lofts), got a deal on it, did apartments there and discovered people did want to live out there."
The Overbrook building is divided into nine warehouse bays, seven of which are being incorporated into the apartment development.
As the story goes, according to White, the two taller front bays closest to Robin Hood Road were once used as a cooperage, where barrels were made.
The back seven bays were then used to stuff the barrels with tobacco and for storage, White said.
Several design iterations and months of negotiations with city planners regarding windows in the building led to a design that will keep its windowless wall along Overbrook Road intact, while installing windows on the other side and incorporating covered, open-air courtyards onto which the apartments will open up.
Historic Housing is only redeveloping the back seven bays for now. The remaining two bays closest to Robin Hood Road are still used as commercial warehouse space.
The back seven bays were around 113,000 square feet prior to construction. That size has ebbed and flowed as work has progressed, White said, decreasing when sections of the roof were peeled back and increasing with the creation of two-story apartments in certain sections of the building.
They've also worked in a community room and leasing office into the center of the structure, as well as parking and a pool.
Historic Housing's in-house Candela Construction is the general contractor on the project. Salomonsky is the architect. His son Steven runs the construction arm.
The project is financed by M&T Bank and is eligible for historic tax credits.
Each bay will be a mix of one and two-bedroom units. Rents right now are set at $1,100 to $1,625, including electricity, internet, TV, and water/sewer, though White said the rates could change depending on the market.
"It's a fluid number," he said. "If we find things are going really well we might get a little more aggressive."
Incorporating separate courtyards into the development is somewhat of an experiment that will create a kind of communal living area for residents.
"We're hoping it's a draw," White said. "We're trying to create an identity for each section."
Each bay will have large planter boxes with trees and other vegetation, and the plan is to give each section of units a name of a different style of beer, as a play on the property's proximity to Hardywood and all the breweries in Scott's Addition up the road.
"I don't know if someone will pick an apartment because they prefer a doppelbock to a hefeweizen, but maybe they will," White said. "We think it will be kinda fun."
The developers are betting that being next door to Hardywood – one of the city's most popular breweries – will be a draw for prospective tenants. Those who sign a lease will get a co-branded Cooperage/Hardywood beer growler and a gift card to fill it up next door.
"We're going to find out," if it's a draw, White said. "We think it will be good for both of us."
Leasing has begun for the first two sections that should be completed in a few weeks. White said the plan is then to complete another bay every 10 days thereafter, with full completion by the end of October.
That means the timing of the event will be ideal for seeing finished and unfinished sections.
Tickets for the event include beer, wine and heavy appetizers. And as with all BizSense events, expect plenty of valuable schmoozing.
Here's a look at some of our previous Hard Hat Happy Hours:
Hard Hat Happy Hour IV: A sold-out evening at the HandCraft building
Hard Hat Happy Hour V: Bus barn takeover
Hard Hat Happy Hour VI: Sights from the night at Symbol Mattress
Anyone interested in sponsorships, please email [email protected].