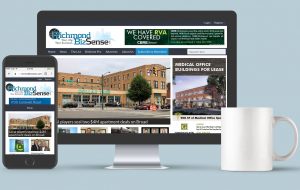 As business gets back to full steam following the usual summer lull, Richmond BizSense is making it easier to get your daily dose of local news.
We're kicking off September with a new website, designed for quicker loading speeds and easier mobile viewing.
More readers than ever are consuming news through smartphones and tablets – mobile views surpassed desktop views for the first time last year. The technological landscape for online news publications like BizSense is changing rapidly, and we have an obligation to match it.
Beginning Sept. 1, you'll find significant layout changes when viewing our site on your smartphone, as we've optimized the browsing and reading experience to automatically adapt to all screen sizes. That means no more pinching to zoom in or squinting to get through a story – every layout is optimized for your phone as well as your desktop.
With that said, we've worked to make the switch as seamless and intuitive as possible, so readers will know where to find what they're looking for. While you'll notice some style differences and new fonts on our homepage and stories, navigating the site will remain the same.
Our BizSense Pro membership-only data sections still are available in the same formats, and there's no need to create a new account. If you experience difficulties with login or account status, contact us here or call 804-855-1037.
As with any update, there will be some bugs to fix, which we'll squash as they arise.
The website redesign encompassed years of feedback from readers, which we hope keeps coming. For issues, questions and concerns concerning the site, please contact web editor Kieran McQuilkin at [email protected].