A global convenience store chain has taken a big gulp of the local grab-and-go market.
Earlier this month, 7-Eleven purchased 17 gas stations and convenience store properties in Richmond and Chesterfield and Henrico counties. The collective cost of the deals, which closed Feb. 6 and 7, was nearly $28 million.
The seller on each of the properties was Macs Retail LLC, an entity tied to Mid-Atlantic Convenience Stores LLC. Many of the properties are operating as Exxon, Sunoco and Circle K locations.
Of the 17 properties, 10 are in Chesterfield, five are in Richmond and two are in Henrico.
Individual amounts 7-Eleven paid for the properties range from $4.3 million for the Sunoco at 3310 Church Road near Short Pump to $388,000 for the Exxon at 2117 Willis Road in Chesterfield.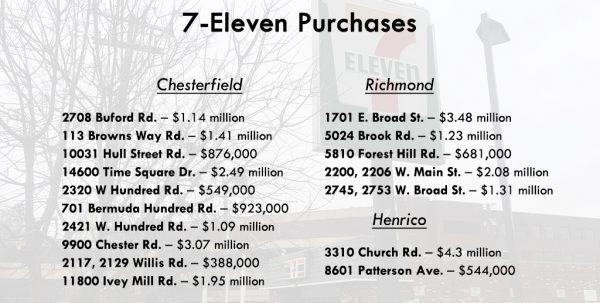 Last month, 7-Eleven announced it had closed on the purchase of over 1,000 Sunoco stores across 17 states – the largest collective acquisition in the Irving, Texas-based company's history. The deal was announced last spring but ran into an issue with Sunoco's lenders in the fall that slowed the process, per a Bloomberg report.
It was not specified whether the Richmond purchases are related to the larger deal with Sunoco. Attempts to reach 7-Eleven for comment were unsuccessful.
In 2013, MACS was sold to a Sunoco affiliate for an undisclosed sum. MACS could not be reached for comment on the 7-Eleven purchases.
Meanwhile, another gas and convenience store chain is preparing to open along the Boulevard. Wawa broke ground at 3100 N. Boulevard last fall and plans to open the store later this year.