Work won two awards in Communication Arts Magazine's 59th Advertising Annual Competition. The awards recognized print ads produced for VCU's Institute for Contemporary Art and for Harley-Davidson exhaust manufacturer Cobra USA. The Cobra ad was designed to challenge readers' knowledge of garage tools, with numbered answers that appeared upside down.
Charles Ryan Associates added two employees at its Richmond office. Amanda Engquist is a digital media analyst. The JMU graduate previously worked in account management for Symphony Talent and Nashville agency iostudio. Nora Bollinger is a digital experience designer. Also a JMU alum, she previously worked as a designer for Chesterfield-based Key Web Concepts.
Red Orange Studio will be working with Richmond Sports Massage in Carytown on a rebrand and with Richmond-based Bingham Arbitrage Rebate Services on updated marketing materials for its fall trade show season. The agency also is donating $10,000 worth of work to local nonprofit Safe Harbor. Work will include new branding and marketing materials.
Lewis Media Partners has a contract with E.C. Barton & Co., an Arkansas-based building materials supplier, to manage paid media consulting, including planning and buying. Current work for the company includes consolidating media buying across channels and developing a long-term media strategy.
The Martin Agency released three spots to kick off its latest campaign for Sling TV. Called "Slinging with Dr. Ruth," the broadcast and digital campaign stars 90-year-old "sexpert" Dr. Ruth Westheimer. The campaign also includes social posts, GIFs, display ads and radio.
Martin is providing branding and strategic planning for Wizards of the Coast, a Washington-based game publisher whose properties include fantasy trading card game Magic: The Gathering.
Cream picked up four new clients: social network Nextdoor, outdoor sports gear manufacturer Shimano, TV station Kentucky Educational Television and Richmond-based investment bank Harris Williams & Co. The studio also is working on a project with local nonprofit Make-A-Wish Greater Virginia.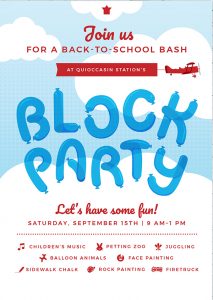 Think designed a campaign for Manakin Property Services to promote an event at Quoiccasin Station Shopping Center. Work included window posters, banners and flyers. MBM Marketing hired Think to design a brochure and newsletter for Covenant Woods, a nonprofit retirement community in Hanover County. The agency also is doing branding and design work for Florida-based Grant Team Real Estate.
Padilla was sold to Avenir Global, a PR-focused holding company based in Montreal. The company plans to maintain Richmond operations at Padilla's office in Manchester.