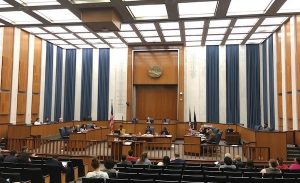 Chesterfield
Public hearings before the planning commission on a draft update to the county's comprehensive plan are scheduled to be held at 6 p.m. Feb. 19 and March 19 in the Public Meeting Room at 10001 Iron Bridge Road. Details about the update and a copy of the latest draft are available here.
Supervisors next meet at 6 p.m. Feb. 27. Public hearing items include Traditions of America's proposal to develop a 250-home 55-and-up community on 104 acres at 10600 Hollyberry Drive.
Hanover
County Administrator Cecil Harris will present his proposed budget for fiscal year 2020 to supervisors Wednesday. The board meets at 2 p.m., with the budget presentation anticipated at about 2:30 p.m. Department budget presentations will follow. The meeting can be watched online, live or archived, via this link.
Henrico
Supervisors meet at 7 p.m. Tuesday. Public hearing items include Kinsale Capital Group's proposal for a 150,000-square-foot, five-story office building on 5.7 acres at Maywill and Thalboro streets, and a proposed addition to Aurelie Capital's Millspring Commons apartments at Staples Mill and Hungary Spring roads. Full agenda here.
Richmond
City Council met on Monday. Business on the regular agenda included councilmember Kim Gray's proposal to rename the Boulevard between Brookland Parkway/Westwood Avenue and Byrd Park as "Arthur Ashe Boulevard." Loughridge & Co.'s request for a special-use permit for its planned 224-unit apartment complex at 2009 Brook Road has been deferred for a fourth time.
Also on the agenda was councilmember Ellen Robertson's proposal, continued since November, to establish a policy that would require any residential development involving city-owned property, city funds or tax credits or exemptions to reserve a minimum of 15 percent of the residential units for income-based housing.
Business on the consent agenda included Harper & Associates' request for a special-use permit to develop 1802 Semmes Ave. as a mix of 106 townhomes and about 4 acres of commercial space. Also on the consent agenda was an ordinance amendment to reflect the subdivision of Lee School Lofts into two parcels, 3101 and 3131 Kensington Ave., and to remove a condition that all dwelling units be converted to condos within five years of a certificate of occupancy.