The Richmond ranks of a Baltimore-based law firm continue to grow, as it has lured yet more attorneys away from LeClairRyan.
Whiteford Taylor & Preston, which opened its first office here last summer, confirmed in recent days the addition of Shane Smith and Grant Grayson, two seasoned LeClairRyan shareholding partners.
The moves bring Whiteford's local head count to 12. All but two of those came from LeClairRyan, following Vernon Inge, who left to launch Whiteford's Richmond office after 23 years at LeClairRyan.
Grayson and Smith both handle corporate clients. Grayson, a UR law school grad, specializes in mergers and acquisitions. Smith, a University of Florida law school grad, had been with LeClair since 2008 and has a specialty in tax law, and trusts and estates.
Inge said his office remains in recruitment mode and is talking with other potential new additions.
"We want to make sure we have topnotch lawyers to support our business clients," Inge said.
Grayson and Smith follow the addition last month of Katja Hill, John Selbach, Jonathan Jones and Nicole Scott move, also all from LeClair.
They're part of a steady stream of partner departures from LeClair firmwide, including more than 20 so far this year. That includes at least eight in Richmond, such as last month when Nancy Reynolds and Jay Spruill left for Woods Rogers, an 80-attorney firm that has had a small presence in Richmond. Groups of attorneys also have left LeClair's offices in Boston, Rochester, New York and Hampton Roads.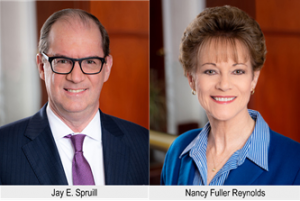 The firm said this month it had 239 attorneys in total, 68 of which are "members" or the firm's equivalent to shareholding partners. It said it added 21 partners in 2018 across 10 of its offices.
Richmond was its largest office as of a few weeks ago, with 32 attorneys working at the SunTrust Center at 919 E. Main St. downtown.
Whiteford Taylor's local group soon will be working from a new office in downtown Richmond, as last month it signed a lease for the entire 14,000-square-foot 17th floor at Two James Center.
Once ready for move-in this summer, the space gives Whiteford enough room to stretch out to what Inge envisions as no more than 18-20 attorneys over time.
The Richmond office was Whiteford Taylor's 16th location and its third in Virginia, joining outposts in Northern Virginia and Roanoke. The firm was founded in the 1930s and largely represents business clients. It has more than 170 attorneys firmwide.