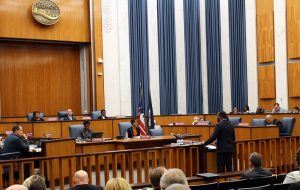 Airport commission
The Capital Region Airport Commission meets at 8 a.m. Tuesday. Business on the agenda includes a monthly budget report. Year-to-date operating revenues totaled $34.2 million, 13 percent higher than budget, while year-to-date expenses totaled $17.5 million, above budget by less than 1 percent. The commission meets in the first-floor conference room at Richmond International Airport.
Chesterfield
Supervisors meet at 6 p.m. Wednesday. The board will hold public hearings on the proposed budget for fiscal year 2020, proposed increases to utilities user charges, a new personal property tax classification on computer equipment and peripherals used in a data center, and the FY 2020-2024 Capital Improvement Plan, among other items. Full agenda here.
Business owners are invited to participate in a business climate survey put out by Chesterfield Economic Development. The survey is designed to gather feedback from business owners and managers about issues that may be impeding business growth and direct resources. The survey can be taken here through April 30.
The county is planning a new 13,000-square-foot pet adoption center to be built near the LaPrade Library at 9000 Hull Street Road. Supervisors have reviewed zoning and design for the funded project, which is expected to take about 18 months following design approval.
Hanover
Supervisors meet in regular session at 6 p.m. Wednesday. Public hearing items include a request from Wilbur F. Allen Living Trust and others to rezone 20 acres at Toms Half Acre Drive north of Bienvenue Road to AR-6(c) to allow for two residential building lots. Full agenda here.
Henrico
Supervisors meet at 7 p.m. Tuesday Business includes setting a public hearing for April 23 to receive comments on a proposed ordinance to increase the threshold for imposition of business license taxes from $300,000 to $400,000, meaning businesses earning $400,000 or less would not have to pay county business license taxes. Businesses earning over $400,000 would be able to deduct $400,000 from their earnings before calculating the amount of their tax. Full agenda here.
The planning commission meets Wednesday at 9 a.m. to review subdivisions and plans of development. Business includes several transfer approvals, including two related to Marchetti Properties' recent $125 million sale of several grocery-anchored shopping centers. Full agenda here.
Richmond
City Council meets at 6 p.m. Monday. Business includes a request from Matt Jarreau to rezone a quarter-acre at 700 N. 31st St. to allow construction of six single-family attached homes. Full agenda available here.
Appointments were made to three administrative positions. Sharon Ebert, most recently director of community development for Johns Creek, Georgia, was hired as the city's new deputy chief administrative officer for economic and community development. Douglas Dunlap, who oversaw that department as interim deputy chief administrative officer, was named director of housing and community development. Valaryee Mitchell, interim director of the office of community wealth building, was appointed to lead the office on a permanent basis.