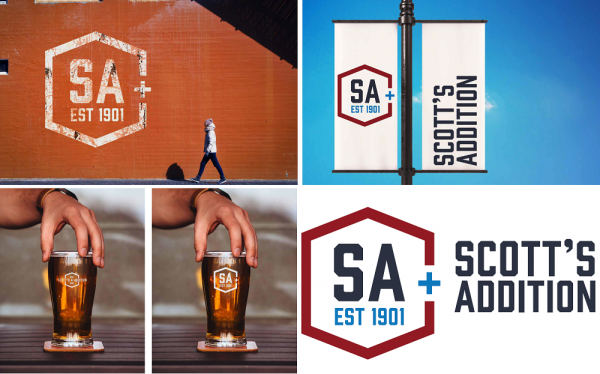 Barber Martin Agency developed a logo and brand identity system for Scott's Addition as pro bono work for the Scott's Addition Boulevard Association. The logo is designed to be combined with a variety of icons identifying different types of businesses in the neighborhood.
Designed by the agency's Bailey Jenkins with art direction from COO Greg Simos, an association board member, the campaign is set to start appearing this summer on maps, stickers, sign banners and storefronts in the neighborhood.
Barber Martin picked up local jewelry store Lustre by Adolf as a client, continuing the agency's 20-plus-year account with predecessor Adolf Jewelers. Work will include a campaign and multiplatform media plan marking the shop's first year in business. The agency also released new work for Cato Fashions as part of its "Capture It" spring fashions campaign.
Advertising Club of Richmond held a "Women in Advertising" panel March 28. The event included panelists Venus Bolton of Red Orange Studio, Alice Eldridge of Good Run Research, Stacie Elliott of Elevation, Lauren Hudson of Charles Ryan Associates and Macy West of MadBox.
This year's winner of the ad club's Barbara Fultz Women in Advertising Scholarship was announced at the event. The $2,500 scholarship, presented by the club and Elevation, went to Madeline Honig, a rising senior in VCU's advertising sequence.
Springstory completed a seven-month communications and social media outreach project for Derbyshire Baptist Church.
Whittington Consulting hired Ashley Young as an account manager.
Addison Clark launched a mobile-friendly website for The Focused Group Inc., a Virginia-based collection agency. The site includes built-in payment options and debt resources for clients and consumers. The agency also is receiving ongoing marketing services.
The Martin Agency launched Cultural Impact Lab, a communications practice within its creative department that combines communications strategy, earned media and paid amplification as part of the creative process.
The lab is led by senior vice presidents Greg Fischer and Jaclyn Ruelle, the latter of whom joined Martin in February from IPG sister agency MullenLowe. Rounding out the group are Michelle Daidone, Britt Flippo, Taylor Grimes and recent hire Dominga Gardner, a Kate Spade vet.
Dotted Line Collaborations launched a campaign for Pediatric Associates of Richmond. Called "More Locations. Fewer Worries", the campaign promotes the group's new Short Pump location and includes social, digital, out-of-home, promotional material and non-traditional communications.
Padilla promoted three employees in its Richmond office. Mark Brown was promoted from brand director to senior brand director on the Joe Smith division team. Rosalie Morton was promoted from director to senior director of social media and digital. Monica Janelli was promoted from brand designer to senior brand designer at Joe Smith.
Think was hired to develop websites for two internal brands of Valley Group, a crane rental agency based in Fishersville. MBM Marketing hired the agency to develop a new website for local theater group Richmond Triangle Players in collaboration with Charlotte-based agency Epic Notion.
Creative Visual Design created websites for Fan restaurant Home Team Grill and PowderQuest, a skiing and snowboarding tour company. It is working on a site for locally based Stella's Grocery and shooting aerial and ground photos for Mark Dana Corp. of the Texas-based real estate firm's 17 Virginia properties.
Colab re-platformed O'My Dairy Free Gelato's website to allow for more easily accessible edits. It also launched a website for Partnership for the Future, a Henrico-based nonprofit.