Three siblings in New Kent County are preparing to turn their old backyard into a new sort of playground: a winery.
Sandy Lewis, Cindy Mikelaites and Brian Mikelaites are opening Jolene Family Winery at 2750 Pocahontas Trail in Quinton.
Brian said their family has lived in New Kent their whole lives, and they're putting the winery near the property they grew up on just off Route 60, between Brianwood Business Park and Tom Brooks Lake. He said the family still owns the business park.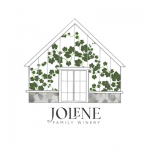 The winery is being named for the Mikelaites' late parents.
"Jolene is derived from a combination of our parents' first names: Joseph and Helene," Brian said. "The winery is in honor of them."
Brian said he got into viticulture about 13 years ago and began taking classes. He said he and his sisters have toyed with the idea of opening a winery for awhile now.
"It was just a love for the industry, and we felt we had this property that was a perfect setting," he said. "My sisters and I moved down in 1969 and we've owned that property since then. The community here is just really warm and welcoming."
He said they're converting a 1,600-square-foot building that was formerly a garden center into a tasting room with a 1,400-square-foot greenhouse attached.
They're also converting an old 3,300-square-foot storage barn into a production area and are adding a 1,800-square-foot "Barrel Club Room," which can be rented out for events and weddings.
"The tasting room is right up against the lake, and we'll have a patio and outdoor seating," Brian said. "There'll be a covered porch and gazebo, and we're also going to renovate the greenhouse so it can be used on rainy days for seating."
Brian said they're growing grapes on property he bought in Lanexa, Virginia, about a decade ago.
"When I purchased that property I looked into the feasibility of putting grapes on that. It's 15 acres and has 3 acres of grapes growing on it right now," he said.
Jolene Family Winery will make both red and white blends as its main wines, and Brian said they'll open with a cabernet franc, pinot grigio, vidal blanc and merlot rose.
"We're trying to make everybody's taste buds happy," he said. "We want everybody to come in and find something they enjoy, purchase a bottle, and sit on the patio and watch the ducks paddle across the pond."
The project's cost was not disclosed, but New Kent County's Economic Development Authority is helping out with a $9,000 grant that will kick in after the winery has been open a year.
The goal is to be open in August.
"Work is underway on the deconstruction. Hopefully soon, we'll begin to put the pieces back together," Brian said.
Another venture
Meanwhile another winery in New Kent also is staying busy.
New Kent Winery recently announced plans for a $715,000 expansion of its facility at 8400 Old Church Road. The investment will include new winemaking and packaging equipment, which will allow it to double its production capacity.
The expansion is funded in part by a $15,000 Agriculture and Forestry Industries Development grant from the state, which New Kent County is matching.
New Kent Winery sits on over 150 acres, and is owned and run by the Dombroski family, which bought it in 2014. The winery produces about 6,500 cases of wine each year and ships its wine to 30 states.