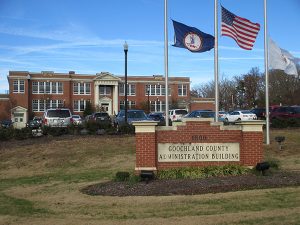 Goochland
Supervisors meet at 3 p.m. Tuesday. Business includes presentation and adoption of the 2019-2024 Economic Development Strategic Plan. Full agenda here.
The planning commission meets at 6:30 p.m. Thursday. Public hearing items include a request from Kinloch Golf Association Corp. to allow unhosted short-term rentals of 18 guest suites for out-of-town members. Full agenda here.
Hanover
The county has secured the funding needed to complete a widening of Pole Green Road projected to cost $21 million. The funds include $13 million allocated by the Richmond Regional Transportation Planning Organization, $1.6 million from VDOT and $5.5 million in general funds included in the county's five-year Capital Improvements Program. Click here to read a release.
RRTPO also allocated $2.5 million for the second phase of the Atlee Station Road widening, with a commitment to provide additional funding.
Henrico
The county received an Aaa bond rating from Moody's Investors Service for its upcoming water and sewer revenue bond issue, making it one of 12 localities in the country to receive the company's highest possible rating. Moody's upgraded its rating from a previous Aa1 as Henrico prepares to issue an estimated $77.2 million in water and sewer revenue bonds to support utility-system improvements.
Richmond
The planning commission meets at 1:30 p.m. Monday. Susan Ould of Many Lives LLC is requesting an amendment to a special-use permit to allow an additional dwelling unit at 310 N. 33rd St., which is approved for up to 50 units and commercial uses. Other requests include a four-lot subdivision at 20 River Road, a 10-unit multifamily building at 3115 Jefferson Davis Highway, and a day nursery for up to 130 children in the 2400 block of Royall and Webber avenues. Full agenda here.
City Commonwealth's Attorney Michael Herring is taking a job as a partner at McGuireWoods. Herring will step down July 1 from the post, which he has held 13 years.