One of the pioneers in single-family and multifamily development in Henrico County is parting ways with nearly 50 percent of its apartment portfolio following a $98.1 million sale.
The Wilton Cos. on Wednesday sold a collection of 16 apartment communities, comprised of 971 units primarily along the Patterson Avenue and Three Chopt Road corridors in the West End, to Richmond-based Landmark Property Services.
Founded in 2002, Landmark owns and manages over 4,000 units across Virginia and North Carolina. The company has managed all 16 properties for The Wilton Cos. since 2002.
The sales price equates to roughly $101,000 per unit, said Rich Johnson, chairman, president and CEO of The Wilton Cos.
The apartment communities involved in the transaction include Westbriar Apartments at 8527 Patterson Ave., Gayton Manor Apartments at 9012 Patterson Ave., Three Chopt Apartments at 9250 Three Chopt Road, Stoneycreek Apartments at 1201 Careybrook Road, and Tuckahoe West Apartments at 1201 Lauderdale Road.
It's the largest apartment deal in Henrico this year for number of units and total sales price.
M. Pinson Neal, who with Brian Chase and Judy Olive serves as a principal of Landmark, said the company placed the properties under contract about six months ago. He said the group was attracted to the portfolio due to its access to retail and employment centers.
"They're great assets, they're in the West End market, and we'll continue to manage them and put in the capital as we need to and improve things as we go along," Neal said. "We're in the property management business, so it makes sense for us to acquire when we can."
Landmark is funding the deal with a mix of private equity and financing from Fannie Mae, Neal said.
As part of the deal, existing maintenance and leasing staff will remain employed at the properties as Landmark employees.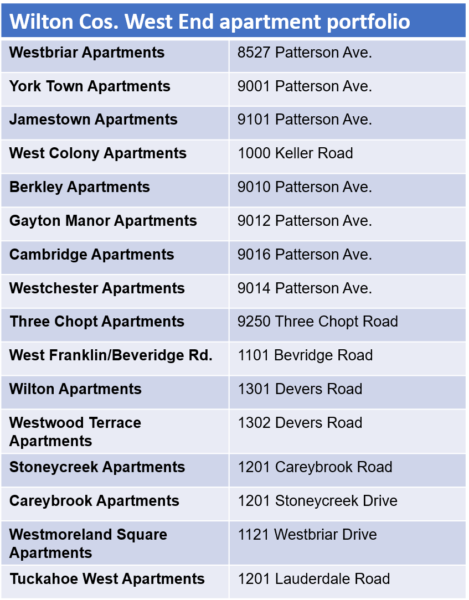 Post-World War II growth
Wilton built many of the apartments in the sale between the mid-1950s and the mid-1970s — a period of robust suburban growth in Henrico following the end of World War II and new highway expansion.
The market rate assets have long been described as some of the earliest suburban apartment development in the region, Johnson said, undergoing a series of renovations between 2000 and 2006 that included new roofing, several updates to the units and addressing the appearance of each apartment community's grounds.
"It's been a continual reinvestment on our part," Johnson said of the apartments. "They have been taken care of, and we couldn't be more pleased with this transaction with Landmark … we know these communities are going to be in good hands."
Wilton's decision to part ways with part of its multifamily portfolio comes as several local and out-of-town investors are circling the vicinity for apartment deals — and they're willing to dole out big bucks to get them.
The 373-unit 2000 West Creek apartment community at 2000 Broad Branch Circle in the West Creek Business Park sold last month to Henrico's Capital Square 1031 for $103 million.
Atlanta-based Pollack Shores Real Estate Group purchased the 339-unit Flats at West Broad Village in February for nearly $76 million, or about $224,000 per unit.
"The decision to sell was strategic in nature," Johnson said. "The market for multifamily properties is very strong at this time."
With the added capital from the sale, Johnson said company, which also manages and leases shopping centers, light industrial warehouses and office buildings across southeastern Virginia and North Carolina, will reinvest funds from the sale back into the business.
That includes construction on Wilton Commerce Park, a nearly $4.5 million, 26,000-square-foot project at 5801 Staples Mill Road.
"We're building it with cash, and we don't typically use construction loans," Johnson said. "That project will be partially funded through those proceeds."