Email submissions to [email protected].
Departure
Christy Coleman, chief executive officer of the American Civil War Museum, is to become the executive director for the Jamestown-Yorktown Foundation, effective Jan. 16.
Law
Kathryn M. Barber is an associate in the business and securities litigation and appeals and issues groups at McGuireWoods. She had been a law clerk to U.S. Supreme Court Justice Ruth Bader Ginsburg and has degrees from the University of Virginia.
Healthcare
Dr. Robert Winn was named director of Virginia Commonwealth University Massey Cancer Center. He had been with the University of Illinois at Chicago and has degrees from the University of Notre Dame and the University of Michigan.
Real Estate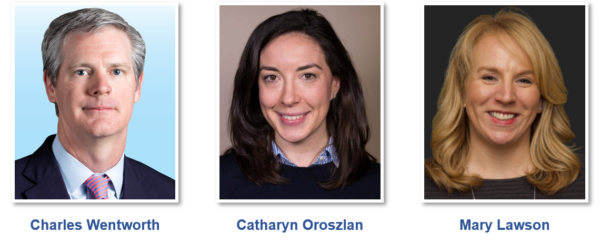 Charles Wentworth has been named a principal of Colliers International.
At Virginia Realtors:
Catharyn Oroszlan has been promoted to associate general counsel. She had been staff counsel.
Mary Lawson has been promoted to vice president of legislative affairs. She had been legislative relations director.
Finance
Matthew L. Clarke is market president of TowneBank Chesterfield. 
Architecture/Design
Kimberly Lloyd has joined ENV as a project designer. She had been with Commonwealth Architects.
Construction
James Elliott has been promoted to assistant superintendent with Hitt Contracting. He had been a carpenter.
Marketing/Advertising/PR
Kaylee Brooks has joined Addison Clark as an account coordinator. 
Samantha Strader was promoted to director in the corporate communications practice. She had been an account supervisor.
Blaine Lay was promoted to senior brand manager at Joe Smith. Lay had been a brand manager.
Perry Lowder was promoted to senior brand strategist at Joe Smith. Lowder had been a brand strategist.
Kathryn Canning has been named digital strategist in the digital group. She has been an account supervisor in the corporate communication practice.
Denise Grega was promoted to account supervisor in the corporate communication practice. She had been a senior account executive.
Ali Hutcheson was promoted to senior account executive in the social media and digital group. Hutcheson had been an account executive.
Business Services
Haley Loll and Christy Moore have joined Randstad Professionals as staffing managers. Loll is a is a graduate of Virginia Commonwealth University. Moore is a graduate of Longwood University.