Richmond startups spent plenty of time at the negotiating table in 2019, with loads of capital raises and other deals struck as the decade wraps up.
New capital in all sorts of industries
It wasn't just tech-based startups that hauled in new investment during the year. Companies in the craft beverage, ice cream, clothing and health food industries were among those that got new capital in 2019.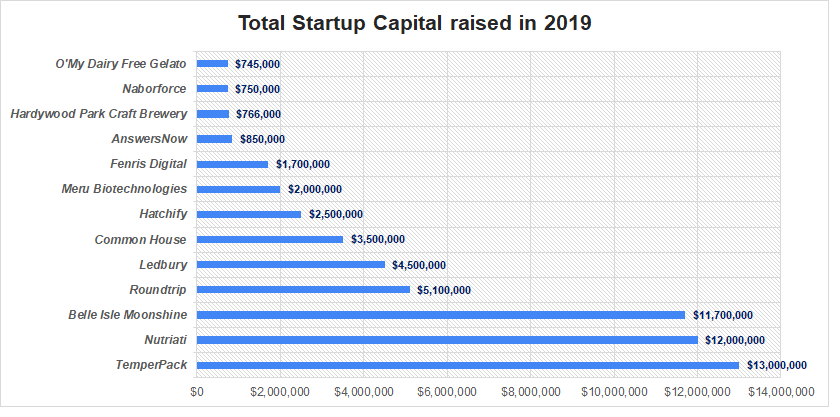 | | | |
| --- | --- | --- |
| Company | Industry | Amount raised |
| TemperPack | Packaging | $13,000,000 |
| Nutriati | Health food ingredients | $12,000,000 |
| Belle Isle Moonshine | Craft spirits | $11,700,000 |
| Roundtrip | Medical transit tech | $5,100,000 |
| Ledbury | Menswear | $4,500,000 |
| Common House | Social club | $3,500,000 |
| Hatch (formerly Hatchify) | Sales software | $2,500,000 |
| Meru Biotechnologies | Biotech | $2,000,000 |
| Fenris Digital | Insurance technology | $1,700,000 |
| AnswersNow | App for clinicians and parents of children with autism | $850,000 |
| Hardywood Park Craft Brewery | Craft beer | $766,000 |
| Naborforce | Care network for seniors | $750,000 |
| O'My Dairy Free Gelato | Ice cream | $745,000 |
Wheelin' and dealin'
While some were writing up term sheets, other startups were working the M&A circuit.
OccasionGenius, formerly PartyRVA, sold off the part of its business that listed local events to a group that turned it into EventZingo.
Coin Savage, a local cryptocurrency news and analysis site, acquired D.C.-based Vite.Money, a firm that allows users to invest their spare change into crypto assets.
Local entrepreneur Ryan Leach recently sold off his water bottle company Stratos to an out-of-town buyer to focus on his new venture, Lux Metal Card.
The scooter startups strike back
The first chapter of 2019's electric, dockless scooter saga started in City Hall, when City Council voted to approve an ordinance that made it legal for scooter operators to run in Richmond, provided they get a permit and pay annual fees.
After that domino fell, Florida-based startup Bolt was the first to get a permit and launch in Richmond. Bird, the scooter company that started it all when it unexpectedly dropped hundreds on Richmond's streets in August 2018, returned in the fall.
The city's annual fees were a bit too steep and the regulations too strict for some scooter operators, though. VeoRide and Lime both had plans to launch in Richmond but scrapped them, citing the city's regulatory environment as the reason for doing so.
Those who weren't content simply renting a scooter had a chance in the summer to own a pre-owned Bird of their own.
The Bird scooters the city impounded in summer 2018 were put up for auction by the city's towing contractor, Seibert's, then later put up for sale at $105 apiece, and quickly sold out.
The latest entrant to Richmond's electric transit market doesn't use an app or have just two wheels. RVATukTuk launched in October, offering free rides in electric rickshaws on circuits around town and at private events.