Richmond's ad industry output kept flowing in 2019, with TV spots promoting local car companies, pro bono work for area nonprofits – even images that made it on a series of U.S. Postal Service stamps.
Work this year ranged from a branding campaign for one of Richmond's hottest neighborhoods to animation videos from local motion graphics studios, one of which turned heads with an award-winning short film.
Here are our picks for this year's standout locally produced ads and memorable marketing moments, in no particular order, pulled from The Pitch and other BizSense coverage:
Burford Advertising – Childsavers PSA
Childsavers from Burford Advertising, Inc on Vimeo
Burford Advertising's pro bono work for local nonprofit ChildSavers was highlighted with this 60-second public service announcement, which features a testimonial from an area middle school teacher about services she received as a sexual abuse victim. Arlington-based Wayne Westbrook filmed and edited the spot, which aired on local TV stations.
---
Barber Martin Agency – Scott's Addition branding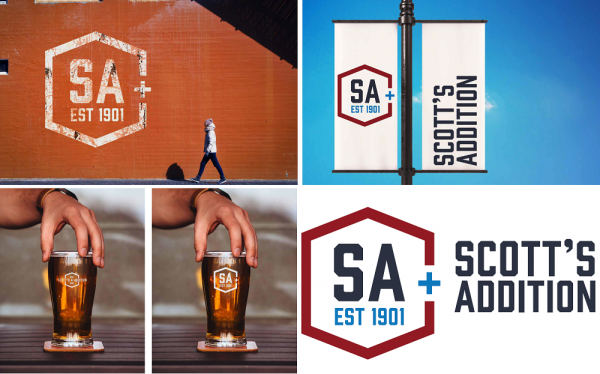 The Scott's Addition-based agency developed a logo and brand identity system for the neighborhood as pro bono work for the Scott's Addition Boulevard Association. The logo was designed to be combined with a variety of icons identifying different types of businesses in the neighborhood.
---
The Martin Agency – Geico 'Smartdogs' spot
Martin has released a lot of work for Geico, the longest-running of its many advertising accounts. But in April, the agency put out a campaign for the insurance company specific to Distracted Driving Awareness Month. Called "Smartdogs," the clips show different breeds being trained to teach drivers how to drive undistracted, with amusing results.
---
Familiar Creatures – Carlotz 'Have it both ways' spots
Museum District-based Familiar Creatures produced two TV spots for a campaign it developed for CarLotz. The spots, "Soft Jazz Baby" and "Essential Drool," ran throughout the year in the Richmond-based used-car dealer's newest markets in Chicago, San Antonio and Tampa, Florida.
---
Siddall Communications – MADD 'Don't Drink and Kill' spots
Siddall's campaign for Mothers Against Drunk Driving included TV and radio spots, social media and posters spotlighting family members of victims from across Virginia killed in impaired driving collisions. The videos were directed by Tom Maher of Richmond-based Stolen Moment and produced by Virginia Bertholet and Siddall's Roberta McDonnell.
---
A retired rock photographer's Short Pump side gig got a promotional boost from Cabell Harris's Work Labs, which produced naming, logo and social media content for the Richmond-based movie light restorer.
The campaign put John Scarpati back in the spotlight, and put his Old Hollywood Light Co. into our focus.
---
Siddall/Cream – Vanpool Alliance animation ad
Siddall teamed with animation studio Cream on a campaign for Woodbridge-based Vanpool Alliance, resulting in this retro-style video promoting vanpooling. Their collaboration continued this year with a 10-second spot for State Fair of Virginia.
---
Cade Martin – USPS hip hop stamp
Local photographer Cade Martin created images for the U.S. Postal Service that appear on four 2020 USPS Forever stamps.
Martin worked with art director Antonio Alcalá on the hip hop-themed images, which depict MCing, b-boying, DJing and graffiti art to represent the musical genre's contribution to American culture.
---
West Cary Group – Atlantic Union 'Loyalty' spot
The downtown agency's TV ad for Atlantic Union Bank stars basketball hall-of-famer Ralph Sampson. Entitled "Loyalty," the 30-second spot shows Sampson lending his support to a pair of basketball-player brothers, rewarding them for the loyalty they show to each other. The ad ran on broadcast and cable channels across Virginia.
---
Hue & Cry – 'Into the Flame' short film
Into The Flame – A Hue&Cry Film from Hue&Cry on Vimeo.
The animation studio released its first short film, a six-minute psychological thriller directed by agency partner and creative director Sean McClintock. Called "Into the Flame," the film received awards of excellence at this year's San Francisco Independent Short Film Festival and IndieFest Film Awards and was an official selection at the Indie Memphis Film Festival. Richmond sound shop Overcoast handled final mixing for the film.