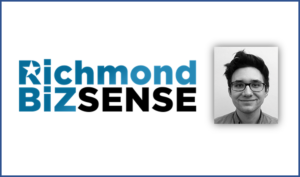 There's a new face in the Richmond BizSense newsroom.
Jack Jacobs joined our reporting ranks earlier this month after stints at the Virginia Gazette and Tidewater Review.
We'll be keeping him plenty busy, as he takes over our coverage of startups, retail, restaurant, nonprofits, public companies and health care.
A native Richmonder, Jack grew up in the West End and attended Freeman High, before graduating from Allied National High School. He then went on to earn an English degree at Christopher Newport University in 2016.
When not hunting for news, Jack says he's keen on adding to his vinyl record collection of punk, hardcore and indie albums, in addition to preparing for his pending nuptials later this year.
Loyal BizSense readers: Please welcome Jack back to Richmond and feel free to send him a news tip to help him hit the ground running in his hometown.
Reach him at [email protected] or 804-554-6545.