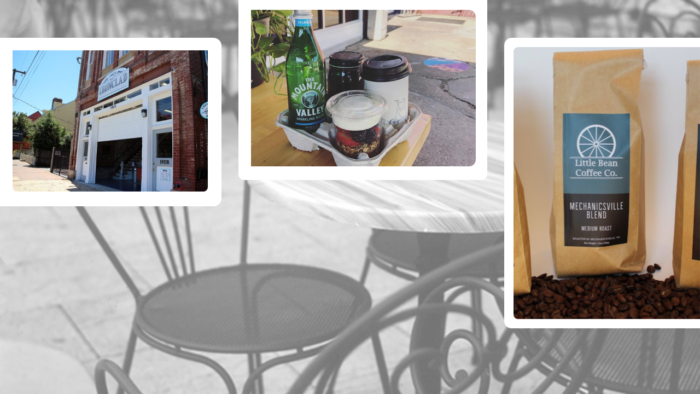 This time of year, Ironclad Coffee Roasters likes to take full advantage of its spot inside a renovated firehouse and open up its large, garage-like door to treat cafe patrons to the feeling of a spring breeze as they drink their coffee.
But these days that door stays shut, as the Shockoe Bottom coffee house and its peers across the region have closed their cafes to patrons and transitioned to curbside service in response to government guidelines that seek to contain the spread of the coronavirus pandemic.
The pandemic's effects reverberate in a peculiar way for coffee shops, which in normal times rely on the human connection and community – and customers sitting and often staying a while.
"It's been a major disruption, but as soon as we knew it was going to hit, we didn't want to give up. We knew we were going to change things and adapt," said Ryan O'Rourke, owner of Ironclad Coffee.
Last Friday marked the start of loosened restrictions on some businesses in most localities in Virginia. The city of Richmond wasn't among those localities, as the governor granted a request by Mayor Levar Stoney to delay the first phase of reopening in the city by two weeks.
For O'Rourke, the 11th-hour change introduced more confusion into a challenging time.
"I remain as confused as ever," O'Rourke said. "We have Northam saying this and Stoney saying that. I figure it's just better to wait a little longer. We will open up for people to walk in and order for take away soon, but no seating at all for a while."
Since March 23, Ironclad has offered curbside pickup. That has been helped by the shop's new app, which was developed as a pre-pandemic plan to keep commuter customers in coffee more easily and has proven effective in a business climate that prizes ordering with as little human interaction as possible.
Still, sales are down overall, though the cafe side of the business has been able to break even, O'Rourke said. The shop hasn't laid off or furloughed its workforce of 11 people. Wholesale and roasting, where Ironclad got its start before it opened its cafe in 2018, has taken a big hit as clients' own businesses shutter. Direct sales of coffee beans to individuals, offered both for pickup and delivery, has helped recoup some of the loss on the wholesale side, he said.
Adding to its load, Ironclad signed a lease just before the full effect of the pandemic hit Richmond for a second location in The Current, an upcoming mixed-use project in Manchester.
Adding a roaster
In Mechanicsville, Little Bean Coffee Co. expanded its business with the recent acquisition of a roaster, which allows the company that got its start as a handcart to roast and sell its own beans.
Little Bean recently launched a new mobile app and has found it helpful in its transition away from cafe service to curbside pickup. Customers still come to the coffee shop despite its new normal, and the company, which was founded by brothers Micah and Jett Odle, hasn't laid off its 10 employees.
"Sales are hurting but not nearly as badly as they could be," Jett said.
Little Bean doesn't have outdoor seating, so phase one guidelines that restaurants can open outdoor serving spaces at 50 percent capacity don't apply. Jett said the plan is to introduce walk-in carryout at some point.
"However, we would like to have more information before we open back up for carryout. We will continue to do curbside service through the app though," he said.
The app is a key part of the Little Bean's expansion into roasting and maintaining the connection between coffee shop and customer. Jett hopes customers who want to have a supply with which to hunker down at home will think to pick up some beans when they punch in their drink orders on the app.
With the little centers of communities closed, regulars who would lounge around have left and taken a critical part of the industry's atmosphere with them. The now-oft-uncomfortable handoff that comes with sales transactions during the pandemic is an adjustment for staff used to a social dynamic to the business.
"We really like people as a fundamental element of our personality," Jett said. "The foundation we built this on is completely fractured."
Ahead of the rules
Lamplighter Coffee Roasters was an early adopter of social distancing guidelines, making the decision to limit operations even before government guidelines were handed down. The local chain has locations in the Fan, Scott's Addition and South Addison Street. Currently it operates curbside takeout at its Addison Street location, and doesn't plan to reopen for sit-down service until June.
"We will not reopen any patio areas until at least June 10, and may opt to wait longer based on the level of cases in our area and other factors," said Noelle Forest Archibald, co-owner and managing member. "We are in the process of developing the full criteria for stages of reopening our seating and facilities. We feel strongly that the move to reopen public dining areas now, even in outdoor areas, is not in the interest of public health and we were shocked to see limits being rolled back early."
The company shut down two of its three shops and laid off most of its staff in response to the pandemic. It consolidated its operations at its cafe on Addison Street, and though it initially laid off 70 of 77 employees, it has begun to rehire people and was up to 10 employees in early May, Archibald said.
Lamplighter launched an online ordering service in April, while call-ins for orders have been in greater numbers than expected. Though sales are down overall with two shops closed, Archibald felt like Lamplighter would be able to get through the pandemic.
"I think we will survive as a company one way or another," she said. "It may not be going back to the way things were."
Looking forward, Archibald expected shops would rethink the number of touchable surfaces, such as condiment bars. She also wondered about the future of luxury goods such as higher-end coffee in a time when customers may have less disposable income. But as far as luxury items go, Archibald reasoned, quality coffee is on the more affordable side.
The loss of the cafe experience for customers has been a blow for morale and economically. The company worked with local artists Brad Bacon and Marshall Higgins to add artistic waiting spaces to help customers keep a six-foot distance between them, helping the shop maintain some sense of the cafe atmosphere.
"It isn't just Xs you stand on while you're in the ration line. It's a bit more joyful," Archibald said. "It's surreal to be in a coffee shop without customers."