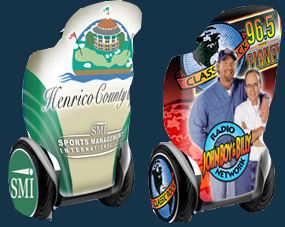 Buck Ward just batted for the PR cycle.
His new Segway of Richmond shop in Shockoe Bottom garnered a full-length story in Style Weekly, one in Brick Weekly, and two stories in the Times-Dispatch. There's also a lengthy plug on the Richmond Region Visitor Center, which promotes the area as a tourist destination. (That would be like a victory lap around the bases – not really a hit, but still a chance to bask in the limelight.)
Ward leased a humongous space on the cobblestoned stretch of Cary Street. In Monday's MetroBusiness Greg Gilligan writes, "Selling Segways is just one part of Ward's business model. He believes renting them and using them for tours downtown, which started Saturday, should be a much bigger part. The tours are conducted twice daily.
"They provide a unique vantage point for seeing the sites," Ward said. "They cover much more ground than walking."
There doesn't seem to be much left to report. BizSense's only addition: Ward is also trying to sell advertising on the front of the Segways, which makes them look like chariots. You can see a picture here.