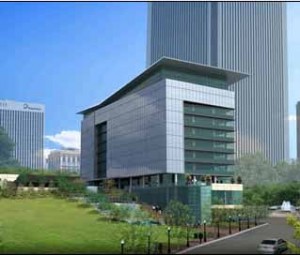 Despite rising vacancy rates and a slumping economy, developers presented a cheery outlook for development in downtown Richmond at an event yesterday hosted by Venture Richmond. More than 100 people gathered for the Downtown Development Forum at the newly renovated National Theatre at Broad and Seventh streets.
Presenters delivered two-minute updates on development projects that have been completed recently or are on track to be finished in the next year.
Some highlights:

Richmond CenterStage: The performing arts center builds off the Carpenter Center (now the Carpenter Theater) and adds three venues: Rhythm Hall, a space for local performers and corporate events; Showcase Gallery, a reception area and art gallery; and the Libby Gottwald Community Playhouse, a theater space for local productions and corporate use. The remodeled Carpenter Theater will feature an expanded backstage, bigger seats and better acoustics. The $75 million project is expected to open in September.
Foundry Park: Located along Byrd Street between Fifth and Seventh streets, three main projects are being developed by the New Market Corp., the parent company of Afton Chemical and Ethyl. A 300,000-square-foot office building that will house MeadWestvaco's corporate headquarters is to be completed in fall. The park also will include an expansion of Afton Chemical's research and development facility (to be finished in next year's third quarter) and a parking deck for the Federal Reserve that will be completed in May.
Williams Mullen building: Developed by Virginia Beach-based Armada Hoffler, the site at 10th and Canal next to the RMA parking garage will be the new home to the law firm of Williams Mullen. They have pre-leased 170,000 square feet, and there is an additional 30,000 square feet left over for tenants. Expected completion date is June 2010.
Hilton Garden Hotel and Miller & Rhoads Condominiums:
The 250-room Hilton will occupy the old Miller & Rhoads department store downtown. It is planned to open in February, and General Manager Brian McGhee said it would be "the everyman's Jefferson." The Miller & Rhoads building will also house 133 condominium units priced between $129,000 and $599,000. There will be 21,000 square feet of retail space available. The total project cost is about $100 million.

626 E. Broad Street: The Wilton Companies is renovating the 1954 building. The University of Richmond will occupy the first floor to serve as a satellite for the Bonner Center for Civic Engagement and the T.C. Williams School of Law. The location will include a family law clinic and pro bono legal services. The other four floors (9,000 square feet each) aren't yet leased. Wilton is seeking gold-level LEED certification.
Rocketts Landing: Richard Souter said the first phase of the 55-acre development is 90 percent complete. The first phase includes 41 townhouses and more than 250 condos. Souter said they have sold five penthouses costing more than $1 million each.
Other projects: Hundreds of condo/apartment units will be available from Manchester to Jackson Ward in the next year. Here is a list of some of those projects:
River Lofts at Tobacco Row Lucky Strike Building
Emrick Flats
EcoFlats
110 S. 15th Street
The Reserve
Old Manchester Plaza
Marshal Street Bakery Condos
Manchester Proper
Sisson Building
Dill Factory
The Upper Lofts at Canal Walk
Paper Company
Brownstone 919
Southern Aid Building
Studio 516