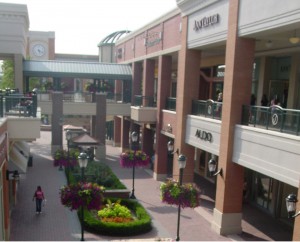 Richmond area shopping malls are holding steady, but trouble might be on the way as major retailers plan to close stores. A BizSense study found that the combined storefront vacancy of six area malls is 9.6 percent.
Brian Glass, commercial retail broker for Grubb & Ellis | Harrison & Bates, said the percentage of empty storefronts in Richmond malls is pretty close to the norm: Shopping centers typically are 90 to 95 percent leased at any given time. However, several national malls are in increasingly bad shape, with one mall operator filing for bankruptcy.
Short Pump Town Center had the lowest vacancy rate, 3.6 percent of storefronts (not square footage), with only four vacant stores. One of the area's oldest shopping centers, Willow Lawn, was about 23 percent empty with 12 vacant stores.
The empty store rate for Stony Point Fashion Park was 7.8 percent. Virginia Center Commons' rate was 9.5 percent, Regency Mall's was 10.3 percent and Chesterfield Towne Center's was 10.4 percent.
The numbers show little change from when BizSense looked at mall vacancies in August.
"I think a better handle on the mall situation is going to happen in the first quarter 2009, where we are probably going to see some more vacancies, not only in malls but all shopping centers, especially as national retailers announce more store closings and bankruptcy actions," Glass said.
Indeed, plenty of national retailers who operate stores locally have announced large-scale store closings between now and January. KB Toys will close 356 stores, Foot Locker will close 140 stores, Ann Taylor will close 117 stores and Gap will close 85 stores. Department stores such as Macy's, JC Penney and Dillard's have also announced closings.
The Dillard's at Chesterfield Towne Center recently closed, leaving a large chunk of unoccupied space. At Virginia Center Commons, the Disney Store closed this year and the space remains unoccupied. Also at Virginia Center, clothing stores Tailor's Row and B. Moss were having liquidation sales and will be closing soon. Friedman's Jewelers was also having a going-out-of-business sale with merchandise 70 to 80 percent off.
Nationwide, vacancies at shopping malls and centers are at their highest point since 2001, according to the Wall Street Journal. Market research firm Reis Inc. said the vacancy rate based on square footage at malls in the top 76 markets rose to 6.6 percent in the third quarter from 6.3 percent in the previous quarter. Newsweek ran a story this month proclaiming that the American shopping mall is "in its dying throes, if not already dead."
Richmond's shopping mall history follows the national narrative closely. The first indoor shopping center was built in Minnesota in 1956. Six years later, Azalea Mall in North Side debuted as Richmond's first enclosed shopping mall. For the next 30 years, suburban shopping malls boomed. In the 1970s, Cloverleaf Mall and Chesterfield Towne Center opened within five years and five miles of each other. Willow Lawn, built as a strip mall in the 1950s, was enclosed in the 1980s.
But as malls grew more numerous and move farther from city centers, they began to suck the lifeblood out of earlier shopping centers. Azalea Mall closed in 1999, and Cloverleaf followed a few years later. As malls across the country have turned into empty shells and crumbled parking lots, the concept has begun to fall out of favor. The modern trend is to build malls without roofs with architecture that more closely resembles a village street lined with shops. Richmond's two newest malls, Short Pump and Stony Point, follow this model.
BizSense will revisit malls early next year to assess the recession's continued impact.
Further reading:
The Economist: Birth, death, and shopping