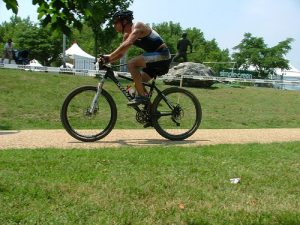 After more than a decade in Richmond, the Xterra East Championship off-road triathlon will likely not stop here in June. But a new race might take its place in the cooler month of May.
The company that organizes the race, Hawaii-based Team Unlimited, has for the first time requested $25,000 plus local assistance with logistics for its Championship-series races. The Richmond Sports Backers, a local nonprofit group that promotes athletic events and exercise in Richmond and helped organized the race, is working on plans for an alternative that would likely run in May.
In 2005, the Sports Backers expanded the scope of the event and organized a weekend of activities around the race. That conglomeration was known as the James River Adventure Games.
Sports Backers is unlikely to pay the $25,000 fee. Team Unlimited used to fly in 20 staffers to run the race. Now they're asking the Sports Backers to handle more of it, said Jon Lugbill, executive director of the Sports Backers.
But Lugbill has not ruled out working with Xterra. "We're still willing to do it if it makes sense," he said. "But we're not willing to lose a lot of money."
Team Unlimited could not be reached for comment. Until several years ago, the event was sponsored by Nissan and called the Nissan Xterra Championship. Nissan has an SUV called the Xterra.
The race involved a 1K swim in the James River, a 26K mountain bike race and a 10K trail run downtown. It drew professional competitors from across the country as well as a local contingent. The Sports Backers calculated the local economic impact at about $400,000.
Lugbill said his organization is planning something that may end up being as popular: "We are right now in the middle of trying to get all those events combined with some other things. We just can't announce it now. We're hoping to announce in early February a new event in middle of May."
Lugbill said the event might include an off-road triathlon similar to the Xterra Championship, although he said a new event would likely draw fewer participants.
The James River Adventure Games had 2,186 participants in 2007, according to the Sports Backers annual report.
"The whole James River Adventure Games weekend is not going away. [We'll] reconfigure it. If we do it right, there won't be a difference economically for the region," Lugbill said.
He added that, in several years, the region might even be in better shape with its own race. "The event we're going to announce is going to be really cool."
When asked about the overall economy, Lugbill said that, despite the recession, sponsorships for the other races his organization puts on, including the Monument 10K and the SunTrust Marathon, are holding steady.
Aaron Kremer is the BizSense editor. He is not training for any race.