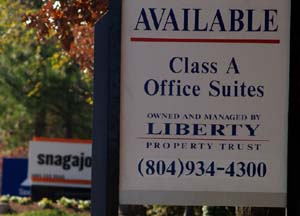 The vacancy rate at Innsbrook and nearby office parks continued to rise last quarter, and, with several big chunks set to come available this year.
In the Innsbrook area, the vacancy rate rose from 12.6 percent in the third quarter to 17.9 percent in the fourth, according to Thalhimer's quarterly market reports.
John Gentry, a commercial broker at Grubb & Ellis Harrison & Bates, said a large number of subleases are partly to blame.
"You have whole lot of small, mid-size and large companies that are just contracting like crazy," Gentry said. "You have companies all over Richmond that would gladly give back 20 percent of their space if they could."
Gentry also said landlords are offering steep discounts that range from 20 to 40 percent off market prices to attract tenants. And some tenants whose leases are not up for renewal are asking for lower rents, brokers say.
According to Gentry, there are more than 520,000 square feet of sublease space available in the northwest portion of the Richmond area, with more than 440,000 square feet of that at the Innsbrook office park.
He said the sublease surge began when two subprime mortgage companies, Saxon Mortgage and Encore Credit, left space last year after being bought up by different Wall Street banks.
"Everything was pretty copasetic up until then," Gentry said.
Perhaps one bright spot in an otherwise slow quarter was AECOM, a global environmental firm that recently leased 80,000 square feet at Innsbrook that formerly housed Saxon Mortgage. But that is a small gain compared with the losses that are about to come.
The planned departures of Wachovia and MeadWestvaco will leave large blocks of space. The liquidation of Circuit City could leave up to 600,000 square feet behind at their corporate headquarters off Gaskins Road. LandAmerica's bankruptcy will lead to a serious reduction, if not elimination, of the 300,000 square feet the company occupies at the Innsbrook North building. The amount of space becoming vacant could reach or exceed 1 million square feet in the West End.
But the questions of exactly how much space there will be and when it will become available have created a bit of a waiting game for potential tenants, according to Mac Wilson, a commercial broker for Thalhimer.
"Right now, if you were a big user looking to occupy space, there are not as many options as you would think," he said.
Wilson said large blocks of space will become available this year, but as to how it will be phased back into the marketplace depends on the various lease agreements and how landlords intend to organize the space.
Although vacancies have risen in and around Innsbrook, they have fallen somewhat in the city. Vacancies in the Central Business District dropped from 13.5 percent in the third quarter to 9.9 percent in the fourth quarter, according to the Thalhimer report. Part of the drop might be associated with the state of Virginia moving into several offices they purchased downtown during the fourth quarter, Wilson said.
Having so much unoccupied space on the market means that building owners aren't earning rent. Owners who are low on capital and have bank loans coming due this year could be in trouble. If the landlords can't refinance or make the payments, then banks will foreclose on the buildings. Gentry and Wilson said that hasn't happened yet, but they acknowledge that it is a possibility.
"We've gone through the inventory and identified some properties that might fall into that category, but we really haven't identified that many," Gentry said. "We don't seem to have a lot of inventory that is horribly overleveraged that appears to fall in the toxic asset territory."
Wilson also said he hasn't seen any distressed sellers trying to unload office buildings.
"If you look at the shear volume of loans on any asset type, one would think there would be some situations where people have to sell, but we have not quite seen it," he said.
One possible reason could be that vulnerable landlords have so far been able to work with lenders to negotiate extensions.
"What's going to happen when they can't do that, and when they can't refinance, that's when the opportunistic investors will swoop in," Wilson said.
Retail real estate vacancies have not risen to the degree to which office space has. According to the Thalhimer reports, retail vacancy in the Richmond area rose less than half a percent from the third to fourth quarters for a total of 5.9 percent. A total of 2.1 million square feet of retail space was leased in 2008, nearly twice the amount that was leased the year before.