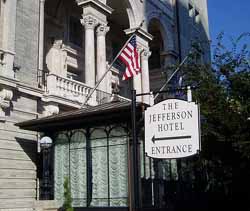 As hotels across the country downsize their staffs and cut back on freebies such as cookies at the front desk and 24-hour coffee, a handful of Richmond's high-end hotels are dishing out the complimentary goodies.
The Omni Hotel in downtown Richmond said it is still offering all the amenities it has in the past, including such high-budget items as the "Art of Breakfast," a morning meal that includes pretty much anything the customer wants, made to order. There's also the Kids Program, which comes with a backpack full of toys upon check-in, said Bill Jordan, manager of communications and sales.
"Consistency is important to increasing direct sales, so to compensate for losses, we are spending less on print advertising and not cutting back on the services we offer," Jordan said.
The high-end hotels in Richmond might be the exception rather than the rule. A recent report by Smith Travel Research shows a 24 percent decline in occupancy rates at luxury hotels for January. That drop in volume has forced some hotels to cut overnight rates 6 percent to attract customers, according to a story from the Wall Street Journal, which also reported that "The Courtyard and other Marriott chains recently stopped putting hand lotion in their rooms, leaving guests to ask for it at the front desk. Wyndham Hotels and Resorts are putting fewer towels in rooms. And Ritz-Carlton hotels are shaving opening hours at restaurants, spas and retail shops."

But over at the Jefferson Hotel, patrons get the same treatment as when the economy was cruising on auto-pilot. The Jefferson was one of 44 lodgings across the nation to receive five-star awards in the 2009 Mobil Travel Guide, and, according to managing director Joseph Longo, it still offers a portion of its earnings at TJ's Restaurant every night to the Virginia Food Bank. That suggests it isn't facing a severe crunch yet.
BizSense reported last month that the regional hotel chain Shamin Hotels is still expanding. Shamin owns hotels throughout Central Virginia.
"We are currently offering no new services and advertising lower rates," said P.C. Amin, founder of Shamin Hotels. "But we have made no job cuts and are honoring our commitment not only to expansion but also to our employee bonuses and health care."
The Commonwealth Park Hotel, meanwhile, said that although it is feeling the pinch caused by low occupancy, it also has made no job cuts and continues to offer everything it has in the past, including free wireless Internet and car service to and from the airport.
The Berkeley Hotel declined to comment on job and amenity cutbacks, but it did say via email that as a result of the down economy it remains committed to ways to save energy and that "it's business as usual."
Ben Mack is a Richmond-based freelance writer.