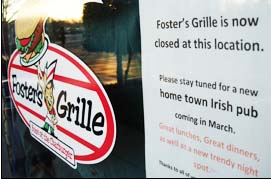 Burger joint Foster's Grille at the Shoppes At Innsbrook has closed. Open for only about a year, the Innsbrook location had a big lunchtime crowd, but didn't seem to have many customers for dinner.  The spot won't stay vacant for long, though.
A sign on the door advises customers that a new restaurant is on the way. "Foster's Grille is now closed at this location," the sign reads. "Please stay tuned for a new hometown Irish pub coming in March. Great lunches, great dinners, as well as a new trendy night spot. Thanks to all of you that enjoyed Foster's Grille."
According to the Virginia ABC Board alcohol license application posted at the store, owners David Robert Stout and Timothy Allen Buhrman are planning to open an Irish pub called Finn McCool's, named after the popular mythical Gaelic warrior from Irish culture.
Trevor Dickerson edits DowntownShortpump.com, an RBS news partner.