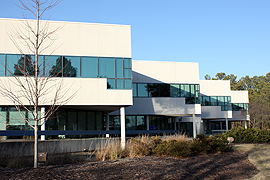 Richmond-based men's clothier S&K Famous Brands Inc. is hoping a quick detour into bankruptcy court can help the company fit into a new business model with fewer stores and lower overhead.
After earning $2.78 million for the year ending in January 2007, S&K lost $3.98 million for the fiscal year ending in January 2008.
"Over the next 60 days, we will recapitalize to get out of Chapter 11 and to maintain the proper capital we need to grow this company even if the recession lasts two years," said president and chief executive Joseph Oliver in a conference call last night with reporters.
"This is not a path to liquidation. We have a plan to get out," said Oliver, who took a $50,000 pay cut in 2008.
S&K faced pressure from its lenders and then determined bankruptcy was the best option because vendors were getting nervous and were less willing to supply the store with the products it needs. S&K also tried to sell itself as a going concern, according to court testimony. But none of the 29 parties that were contacted, including private equity groups, were ultimately interested.
S&K will embark on more cost-cutting measures. With the bankruptcy court's approval, it will close 30 more stores and try to use the filing to get out of leases of underperforming stores, including one at Virginia Center Commons. It was also try to get out of contracts with local marketing firms, including $1.32 million with the advertising firm RightMinds and $402,000 with the media buying firm Kinton & Stallings. S&K will also void gift certificates that are more than 12 months old, which will reduce the requirement cash reserves it must have to satisfy lender Wells Fargo.
S&K might also have a buyer willing to pay $5 million for its Glen Allen headquarters. That deal is not finalized, but S&K would then lease the space.
The retailer, which was founded in Richmond in the 1960s, was unable to borrow through traditional channels. Wells Fargo, one of the company's banks, upped the amount it was requiring be kept in reserve inventory.
"If there is a bank in the United States that's not afraid to make a working capital loan, I'd like to hear from them," Oliver said.
The company lists assets of $41,440,100 and debts of $35,499,000 (not including operating leases).
In July 2008, the company hired turnaround firm Alvarez and Marshal. At that time, S&K had 219 stores. They now have 136. That number will likely drop to 108. According to the filing, the S&K can save $3.8 million per year if the leases are voided.
Employees will continue to get paid as usual, according to the filing. The company had 716 full-time employees and 699 part-time employees at the end of January. Fifty-one of those are at the headquarters in Glen Allen.
S&K was started in Richmond in 1967 by Abe Kaminsky and Hip Siegel. They aimed to offer a quality product with excellent service at a reasonable price, according to the filing. The company had 100 stores in 1990 and 200 stores in 1997. It's unclear exactly when the business model started failing. But in 2005, the company was delisted from NASDAQ.
Stuart Siegel, the company's chairman and son of the founder Hip Siegel, owns 15 percent of the stock.

Aaron Kremer is the BizSense editor. Please send story tips to [email protected]