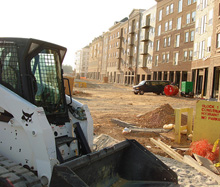 Construction activity is slowing at an increasing rate in Richmond, leading to more layoffs, longer pay terms and downward pressure on the prices subcontractors can charge. For the first time in recent memory, builders say foreign laborers are also starting to return to their countries of origin.
In January, builders filed 123 residential building permits in Chesterfield County. That's down from 295 in the same month last year, a drop of 58 percent. The total cost of projects has fallen from $19.9 million in January 2008 to $6.9 million last month. That's a decline of 65 percent.
When BizSense examined the dollar value of building permits issued in November, they were down 42 percent in Chesterfield, which means activity is slowing faster than two months ago.
Meanwhile in Henrico County, builders filed 53 building permits last month, down from 82 in 2008. On the bright side, that's up slightly from December, when the county issued 41 residential building permits.
However, the total cost fell 60 percent in January 2009 versus the previous year, $22.5 million compared with $9 million, respectively.
Shane Burnette, who manages James River Exteriors, said his firm is trying to find public-sector projects, and that will likely become an even more important strategy as the federal bailout flushes new construction projects down the pipeline. "We're putting a lot of effort on Fort Lee. There's no shutdown there, and a lot of private projects – even commercial – are based on bank financing. That's delaying it," Burnette said. He also said that for the first time he's seeing vice presidents at construction firms working as project superintendents.
Grey Stettinus, co-founder of Tuckahoe Creek Construction and a the former president of the Building Association of HomeRichmond, said that home builders are feeling the declines across the board. One possible exception, he said, could be builders of homes selling for less than $225,000, which could account for the decline in construction costs.
"My understanding is that market has held up pretty well," Stettinus said. "If the permits you are seeing are smaller dollars, those are the homes that are still moving."
Commercial building, until recently a bright spot in an otherwise dismal year, has started to cool as much as residential.
The number of commercial permits filed in Chesterfield fell 34 percent compared to last year. The cost of commercial construction projects fell 68 percent compared with January 2008, when the cost of permitted projects was $12.24 million.
Over in Henrico, commercial builders filed 16 permits in January. That's down from 36 last year, a drop of 55 percent. The total value of those projects declined 38 percent, from $26.9 million in January 2007 to $16.4 million last month.
Jamie Macfarlane, a manager for the construction firm EDC, said the slowdown has been particularly hard on commercial retail developers.
"Most companies are going in to batten down the hatches, cut costs, trimming the fat and cutting operating budgets," Macfarlane said.
His company plans to finish construction on the Westchester Commons shopping complex in Midlothian by May, but another large project, Hancock Village at Winterpock and Hull Street, has been delayed until 2010.
Macfarlane said a price decline in supplies could be partly contributing to the decreases in the overall project costs associated with the permits.
"Demand is down, so building materials are going down, and labor costs going down," Macfarlane said. "They are not falling off the cliff … but now they are starting to come down."
Macfarlane also said retailers are asking building contractors to find any way possible to cut costs.

The numbers used in this story were compiled from data available on Henrico and Chesterfield government websites. The statistics for Richmond City were not immediately accessible.