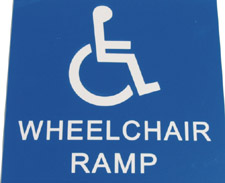 Kevin Mak remembers the day a man in a wheelchair entered his restaurant with a few friends, ate some sushi and left without incident. A few weeks later, Mak, who owns Carytown Sushi, received a lawsuit in the mail.
The man in the wheelchair, Craig Fabian of Midlothian, alleged that the restaurant was in violation of the Americans With Disabilities Act of 1990. And Mak is not alone. Since November, plaintiffs have sued Thai Diner Too, Plan 9 and a Wachovia bank branch over compliance problems.
A lawsuit brought by Fabian against Thai Diner Too was filed the same day as the one against Carytown Sushi. Other plaintiffs filed the lawsuits against Plan 9 and Wachovia, but the cases share the same attorney: Joel Zuckerman from the law offices of Maxwell & Barke in Rockville, Md.
Fabian's lawsuit against Carytown Sushi maintained that the restaurant and the building's owner were discriminating against disabled persons. The ADA established accessibility requirements for businesses to ensure that the disabled had full and equal access to public accommodations. According to the complaint, Carytown Sushi had a three-inch step outside the entrance, a narrow door opening and a steep ramp just inside the entrance.
Mak said he and the owner of the building, J. Harry Ellen, settled the case.
"We came to an agreement that if I paid the other person attorney's fees plus get all the work done, they don't bother me anymore," Mak said.
As part of the settlement, Mak agreed to make the needed improvements, which he said will cost him as much as $7,000.
Mak also had to pay $3,000 for Fabian's attorney's fees in addition to his own attorney's fees. The lawsuit was an unanticipated expense for the restaurateur as he struggles to maintain business during difficult economic times.
"It is having a huge impact right now," Mak said. "Business is very slow right now for us."
The recent filings against Carytown businesses are only a small part of the explosion of ADA compliance cases filed in the U.S. District Court of Eastern Virginia over the past four years.
Shopping centers, restaurants and gas stations from all corners of the city have received ADA lawsuits from plaintiffs represented by Zuckerman. The list of defendants includes Ukrop's Supermarkets, 3rd Street Diner, Extra Billy's, Uppy's Convenience Stores, Carytown Burgers and Fries, and Pocono Green Plaza.
Since Jan. 1, 2005, there have been 95 compliance cases submitted to the court, 67 of which were represented by Zuckerman. Seventy-seven of the cases have been filed in the past two years. Almost all of the cases are against businesses in the Richmond metro area. Prior to 2005, there is no record of any ADA compliance cases being filed in the court.
***
Craig Fabian has been the plaintiff in 32 cases.
"I feel for the business owners, but they've had 19 years to make modifications," he said.
"Every time I see a set of steps or a bathroom I can't use, it gives me a sign that the disabled are not welcome here," he said. "It's not much different than the civil rights issue in the 1960s."
Fabian has been a quadriplegic since 1969, when he broke his neck in a diving accident. He was 15. He moved to Virginia five years ago and changed careers, working as an advocate for the disabled.
Fabian is vice president of the Old Dominion chapter of the National Spinal Cord Injury Association and serves as a government appointee to the Community Integration Commission. He has also been involved with helping the state develop emergency response plans for the special needs population. He serves on the board of Positive Vibe Café, a restaurant in Southside Richmond that provides workforce training to people with disabilities.
When Fabian moved to Richmond, he said that he ran into many more compliance issues than he did in New Jersey. Five years ago, he watched the construction of a building and eagerly waited to visit Café Caturra when it was to open.
Fabian was dismayed at what happened when he arrived once the restaurant opened.
"I went to get an espresso, but I couldn't get in," he said. "They didn't have a curb ramp or handicap parking."
Fabian said he talked to the owner, Jeff Grant, and over the course of several months was able to get him to make the needed improvements without taking legal action. Grant later opened two more locations.
"After we had the issue with the first one, he made sure the other two were very accessible," Fabian said.
After that victory, Fabian said he tried to get other businesses that were not in compliance to make changes voluntarily by making phone calls and writing letters. For the most part, Fabian said, he was ignored, and at that point he sought an attorney.
"I'm looking to make life easier for the disabled population, as well as myself," Fabian said. "I may initiate a lawsuit, but I cannot recover anything from it at all."
Fabian has returned to most of the businesses he has sued after they have made the improvements, he said. One condition of the ADA is that plaintiffs can only sue businesses that they intend to patronize in the future.
Plaintiffs in ADA cases cannot be awarded compensatory damages, but they can be and often are awarded attorney's fees. In some states, including California, plaintiffs can receive monetary judgments under state law.
Fabian said he chose Zuckerman as his attorney because he would send a letter to the business in question and give the owner 20 days to respond before pursuing legal action. The letter asks the business owner to agree to a legally binding plan to bring the facility into compliance. If the owner signs off on the plan, Zuckerman doesn't charge his clients for his service.
"I don't do it haphazardly," Fabian said. "I've been trying to give these guys a chance to avoid legal costs. I'm trying to be really nice about it, but the property owners ignore it or they think it's going to go away."
***
When a business ignores a warning letter, Zuckerman files suit.
Almost all of the cases end in a settlement agreement, usually one that forces the defendant to make the compliance upgrades and pay the plaintiff's legal fees. Zuckerman said the typical settlement amount is $3,000 to $5,000, plus the cost of making the upgrades.
Zuckerman said that he sent a bunch of letters to Carytown businesses and that a lot of them got back to him saying they would do the work. In general, he said, for every 20 letters he sends out, three or four agree to settle the issue outside of court.
For businesses undergoing financial hardship, Zuckerman said he is willing to work with them to develop a plan that stretches the improvements over six to 18 months.
"The goal is to have an agreement," Zuckerman said. "We don't walk away unless the work has been done or there is a plan in place to get it done."
According to a 2007 story in the Baltimore Daily Record about the rise of ADA compliance cases there, Zuckerman filed 108 of 126 compliance cases filed in Maryland between 2003 and 2007 on behalf of less than a dozen plaintiffs.
Zuckerman started his work in Virginia after meeting future client and colleague Michael Chenail at the Miss Wheelchair America pageant that was held in Richmond in 2004.
Chenail is the founder of the Compliance Alliance, a consulting firm for businesses evaluating their compliance under the ADA. He is also a board member of the Old Dominion National Spinal Cord Injury Association.
Businesses often get bad information from building inspectors who tell them that they are grandfathered, according to Chenail.
"Under federal guidelines, there is no grandfathering," he said.
Chenail said he generally charges $125 an hour. Depending on the size of the business, a full inspection and report usually costs $500 to $1,000.  He is also sometimes hired as an expert or consultant in compliance cases, including those filed by Zuckerman.
The meeting of Chenail and Zuckerman would lead to the rising number of ADA cases in Virginia courts. Chenail said he and others didn't file any compliance cases before he met Zuckerman because they couldn't find a local attorney who would seek voluntary compliance without charging legal fees.
"He had a lot of complaints," Zuckerman said. "But we weren't able to do anything because the clients he knew through his advocacy group wanted to put the business on notice first."
Zuckerman's law firm at the time didn't want him sending letters before filing a complaint, but he later switched to a firm that allowed it.
Since then, about a half-dozen members of the Richmond area disabled community have repeatedly turned to Zuckerman to help them enforce the provisions of the ADA. Many of them are officers or board members of the spinal cord injury association.
Despite their successes, Chenail said, they have a long way to go.
"The poor level of work that has been done so far," Chenail said. "It's obvious they are not paying attention to the guidelines when they are making improvements."
For local business owners, it is probably a good time to double-check their facilities to make sure their bases are covered. Otherwise, they might soon be hearing from a certain lawyer in Rockville, Md.