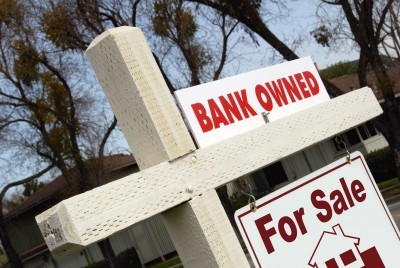 For four weeks now, Brick Smith has been driving investors or other bargain-hunters to look at foreclosed homes. It's a new niche for the 25-year veteran Realtor. On a cold Saturday last month, Brick had an investor in his 30s sitting shotgun in his Lincoln.
This particular investor, who did not give Richmond BizSense permission to use his name, prefers to buy homes that he can rent for less than $1,000 a month. He works full time selling advertising but also owns four rental properties in Richmond's West End.
"Any more than that, and the couple can get a mortgage and buy their own place," he said, adding that he stays away from students and newly relocated couples because they are only here for a short time. He's also handy, able to fix everything but heavy-duty plumbing, which means he can keep his costs even lower than other investors who would have to hire a contractor to make periodic repairs.
On this particular tour, Smith shows four properties in varying conditions of "lived in." All have Realtor signs out front, but not one has a sign that says "foreclosure." None are dilapidated and none have been destroyed by the previous tenants as has often been reported on TV.
Most of the homes were built in the 1950s, but one was built in 1997.
And unlike the homes discussed in Friday's feature, all these are priced at less than $200,000 and show the wear and tear of families that lived there.
Inside, each one has a musty smell. The water is turned off, and in most there isn't any electricity. Unlike a home staged with flowers and fresh paint and furniture, the homes are completely empty. The wallpaper is stained or torn in most, and the exteriors need work.
Foreclosure statistics are notoriously hard to assess. About 6 percent of homes for sale in Richmond are bank-owned, according to the Multiple Listing Service. And home prices likely have not stopped falling. It seems nobody is sure what homes are worth anymore. But one thing is certain: the only way the bottom can be reached is for buyers to start buying, and for sellers to lower prices enough that buyers sign over the check.
Buyers, for their part, are looking for bargains. They know that they are some of the few out there with the money and gumption to make a move. That's one reason Smith, who promotes his tours on YouTube, is quickly establishing a specialty in foreclosed homes.
Buyers come in three variations, Smith said.
"There are your move-in-ready families, who are willing to pay the most. Then you've got the investors, and finally the contractors. They only pay the rock-bottom prices," Smith said, "and do a lot of the work themselves."
The listed price on a foreclosed home drops a lot faster than one listed by a homeowner. Typically a bank will try to sell a repossessed home as quickly as possible, often at auction. But many of the homes don't sell at auction because buyers can't inspect them, Brick said, adding that the banks use formulas of how much to lower the house after so many days.
But because nobody is sure what homes are worth right now, they usually start too high.
One house off Gayton Road was lowered to $167,000 from $200,000 after 30 days. "That's starting to get in the kill zone," Smith said after showing it to the investor.
Bill Londrey, who has been working with delinquent property for decades as a partner with Richmond-based Tranzon Fox, said the first appraisals are always optimistic. "They're using older comps [comparable sales data from homes nearby]. What is not taken into account is the fact that 50 other houses in that community are for sale and not selling."
Londrey typically helps sell distressed property for builders and developers. He organizes about 10 auctions a month in Richmond.
His business, like that of Smith, is busier now. "We are seeing exponentially more of it than a year ago," he said.
So what are foreclosed properties like?
They run the gamut. Some are just lots in developments. Others are partially built McMansions at the outer periphery of suburban development. As for the prices, Smith also said that the bargains are not as amazing as some buyers are hoping for. "You're not going to be buying stuff at 50 cents on the dollar," he said.
The investor, meanwhile, said he is constantly doing the math in his head of what it would take to get the property into move-in shape, what his mortgage cost would be, and what the property might fetch in rent.
"It's the get-rich-slow plan," he said, meaning that the rent covers the mortgage payment and taxes with a little left for repairs, but overtime gets paid off, leaving the asset debt-free.