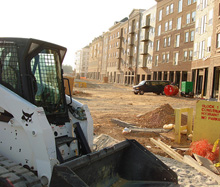 West Broad Village developer Unicorp and Henrico County officials have reached a resolution to their dispute about the cost of water and sewer connections at the development.
The two sides late last week agreed to a payment plan that will allow Unicorp to defer some of the $3.5 million it owes for 14 connections to buildings on the site, at I-64 and West Broad Street. The resolution will permit Unicorp to pay $983,000 owed for the three connections already made on the site over a 36-year period, for the interest rate of prime plus one percent, County Manager Virgil Hazelett said last week.
Last month, the developer had argued to the Board of Supervisors and other county officials that the price tag – nearly $3 million more than it expected – was unfair and was based on improper calculations.
County officials maintained that they described how they would calculate the fees in three 2007 letters to the developer and its engineering firm and that the figure should not have been a surprise. Unicorp had not made any payments for the connections prior to the new agreement, Hazelett said.
This article first ran in the Henrico Citizen, which is a Richmond BizSense news partner.