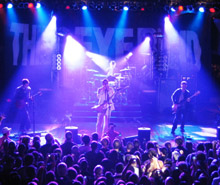 Like the main character in a country music song, Toad's Place just got the boot from its landlord. It's not clear exactly how much back rent the Shockoe Slip venue owes, but it typically takes at least three or four months of missed rent before a commercial property owner evicts a tenant. Sources familiar with the situation said they heard the business was late on its roughly $40,000 monthly rent payment ($15 per square foot) as long ago as November.
Neither the landlord nor the rental company nor Toad's Place returned calls seeking comment. Richmond BizSense talked with several sources familiar with the business who spoke on condition of anonymity.
The next refrain in the Toad's Place ballad is unclear. Charles Joyner, a Yale-educated cardiologist and Toad's Place majority owner, stays clear of the press and hasn't commented yet.
The shows must go on, however. A handful of local media outlets have reported that the locks were changed and a note taped to the door that read, "serious default in rental payment and other obligations."  But Bill Kennedy, who owns the record shop BK Music in Midlothian, said that he talked with Toad's Place representatives Tuesday morning and that they assured him that the shows were going ahead as scheduled. BK Music is still selling tickets to Toad's Place concerts. Busta Rhymes and Maceo Parker are slated to play this weekend.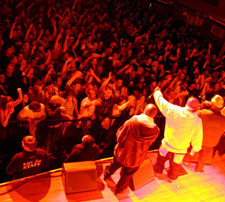 Toad's Place has been plagued by cost overruns and questionable management from the beginning. Joyner had little previous experience in the live music industry. The local ownership group paid a similarly-named Toad's Place in New Haven, Conn., about $20,000 a year and a cut of the profits for the rights to the name. It's unlikely there were any profits. The partnership was supposed to create some booking synergies. Some concerts were packed, and the club did well on them.
But the project was at least a year behind schedule and way over budget when it opened to much fanfare in June 2007. The venue business requires a large amount of capital. Musicians are generally paid a big cut in advance. A good act (one that can bring in 1,500 fans) can cost $40,000 and must be booked months in advance. That means the club would have to plunk down $200,000 for the next month's shows. That can create cash flow issues.
Even then, most of the ticket revenue covers the musicians' fees. Then there are the advertising costs. And the city takes a 7 percent cut of ticket sales.
The money is in the booze. But as the club struggled, gigs became fewer and farther between, which meant there was less opportunity to make money by selling liquor and the popular 22-ounce cans of PBR. Toad's Place also missed out on several hundred thousand dollars of possible revenue when it didn't have an alcohol permit for the first nine months it was open.
Other parts of the business plan didn't progress as anticipated, according to sources. The original plan called for renting out the space to corporate groups. That wasn't as popular at it might have been, according to one source, nor was selling corporate boxes and sponsorships.
I first wrote about Toad's Place in late 2006. At the time, I talked with Steve Payne, a lifelong Richmonder who in the early 1980s helped to start the 800-seat Flood Zone, one of the first businesses in Shockoe Bottom. "It's a tough freakin' business," Payne said at the time. "You can have a homerun and sell out one show, and then do a show and nobody comes. Then you have to do 10 homeruns to get back to zero."
The restaurant at Toad's Place was also a debacle. The menu didn't work for regular lunch or dinner crowds. Style Weekly has reported that a new restaurateur is redoing it.
And then there was the competition. When I wrote the Brick story, then-manager Jeff Sadler said they didn't anticipate that another developer would do a similar project (downtown, historical renovation, 1500-seat … ). The National competes for similar acts, and in a slow economy, its possible that there's only room for one.
If Toad's Place doesn't pull out of the slump, it'll be a loss for local musicians. "I would hate to see Toad's Place go. There just aren't enough places for bands to play," said Tammy Brackett, a publicist and veteran band manager who booked the local group Wrinkle Neck Mules for a February concert.
So how might this song end?
Here's my guess: Another investor will buy the club and possibly make a go of it. Venues are like baseball teams. People who have enough money to afford them love to own them. There's a huge cool factor. Just imagine showing your pals to the luxury boxes while screaming fans sway to the music of a favorite (but not super famous) act.
Joyner might a) not have any more money to pump into the club or b) not want to pump any more money into the club.
Toad's Place would come with significant chunk of the work already done, including the build-out and the brand awareness. The main issue would be the costs, the restaurant and the management. The right owner might be better able to tap into the corporate meeting/event market, which could probably cover the rent.
Aaron Kremer is the BizSense editor. Please send story tips to [email protected]