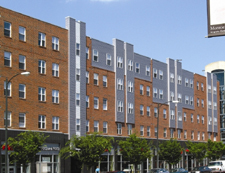 Two large residential buildings on Virginia Commonwealth University's Monroe Park campus have sold for $19.3 million.
RAMZ Hall and Capital Garage were acquired by Kayne Anderson Real Estate Partners,  a private equity investment group based in New York, from ING Real Estate.
Both buildings are leased by VCU for student housing.
Albert Rabil III, senior managing director for Kayne Anderson, said his invesment specialty is off-campus student housing. "In our view, these are the two best located properties at VCU," Rabil said. "They are right up our power alley."
Rabil was already quite familiar with RAMZ Hall — he built it.
Rabil and his Pittsburgh-based partner Michael Zamagias formed RAMZ LLC  in 2001. In their first three years, the partnership developed and acquired properties in the immediate vicinity of VCU valued at more than $25 million.
RAMZ Hall, at 933 W. Broad St., started construction at the beginning of 2004. Three months into the building, it was engulfed by a four-alarm fire. The estimated $20 million worth of damage, including $1 million to VCU property, was covered by the developer's insurance.
The building was finally completed in January 2005. The five-story building has 84 two-bedroom student apartments, with 15,000 square feet of retail space on the ground floor. Current tenants include Cold Stone Creamery, Five Guys Burgers and Fries, Qdoba, and Extreme Pizza. RAMZ still manages the property; the residential portion is leased by the university.
In June 2006, RAMZ sold the property to the ING-owned real estate investment trust for $15.5 million.
ING Real Estate put RAMZ Hall on the market last year. After ING Real Estate's first bidder fell through, Rabil said he moved in quickly to close the deal for Kayne Anderson.
"Like a lot of REITs, they had some cash restraints and needed to make some expeditious sales," Rabil said.
Kayne Anderson acquired RAMZ Hall for $13.3 million, or 14 percent less than the property sold for two years ago.
Capital Garage, located down the street at 1301 W. Broad St., was bought at the same time for $6 million. That building was built in 1919 and renovated in 2000. It has 36 loft-style apartments and a 21-space parking garage.
Al Harris covers commercial real estate for BizSense. Please send pending deals or story scoops to [email protected].