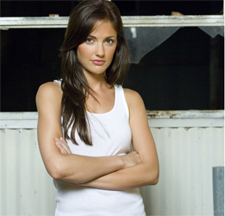 Richmond just got cast as a stand-in for Washington, D.C.
A pilot for the CW network will start filming in Richmond next week with camera crews shooting around Capitol Square and the Fan. The pilot, which is being produced by CBS Paramount, started prepping a few weeks ago and plans to finish filming by the end of April. "The Body Politic" is about a group of young staffers working in Washington.
Andy Edmunds, locations manager for the Virginia Film Office, said the location was a perfect fit for the producers.
"What attracted this particular production are all the resources here that can play as Washington, and the ability to be a more cost-effective way to film Washington-based stories," Edmunds said.
Richmond has previously sat in for the nation's capital for many films including "Hannibal" and "The Jackal."
Edmunds couldn't say how much of a budget the producers were working with, but he said a typical network pilot has a budget of between $2 million and $3 million. A typical network pilot cast and crew consists of about 125 people.
"There will be a significant economic impact," Edmunds said. "The big impact would come if we land the series."
According to the Hollywood newspaper Variety, the CW has six pilots in production. The network will review them in May, and if they like what they see they can order a full season. If "The Body Politic" is picked up, there is no guarantee the producers will locate the entire production in Richmond.
"In the meantime, we are preparing a strategy to entice them to bring the series here in the event that it does get picked up," Edmunds said.
The high cost of filming in Hollywood is leading broadcast networks to film many spring TV pilots in states across the country, most of which have film incentive programs designed to attract productions and build the industry.
"The Body Politic" will be eligible for funds from the Governor's Motion Picture Opportunity Fund, but the amount they will receive hasn't been determined. Edmunds said it is a relatively small amount compared with what they could get from other states.
"This was really driven by an artistic choice and a relationship with a producer who worked in Richmond many times and is familiar with the acting and talent pool available," Edmunds said.
The pilot has a recognizable cast for regular TV viewers. Minka Kelly, from NBC's "Friday Night Lights," will play Hope, an all-American girl who moves inside the Beltway after the death of her mother. She goes to work as a staffer for her father, the new attorney general, played by Tim Matheson. Matheson played Vice President John Hoynes on "The West Wing." Jason Dohring from "Veronica Mars" will play a reporter from the Washington Post.
Al Harris is a BizSense reporter and a film buff. Please send story tips to [email protected]