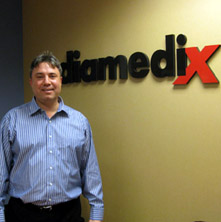 It's gotta be the shoes. As a podiatrist in Bethesda, Md., Dodd Levy found that many of his diabetic patients had problems finding the proper shoe. Diabetics suffer from poor circulation, which can lead to a loss of sensation. In the wrong shoe, feet deteriorate with sores that sometimes lead to amputation.
Now Levy is at the helm of Diamedix Medical, the multimillion-dollar company he founded in 2003 to distribute a wide range of shoes and other medical supplies to patients across the country.
"Years ago in my practice, I saw that there were very few companies producing shoes that a diabetic or anyone else would want to wear," Levy said. "It was the company's mission to find brands of shoes from manufacturers that were appealing to people so they would actually want to wear them on an everyday basis."
Two weeks ago, the company moved its headquarters into 6,000 square feet at the recently-completed Reynolds's Office Building at West Broad Street and Interstate 64). That's about double the size of the company's previous office at Innsbrook. The company moved here from Maryland in 2007.
Diamedix has doubled the number of employees it had this time last year and is now up to 40. Levy said they plan increase the staff 50 percent over the next year.
"We are in the midst of developing a sales force to develop more direct relationships with physicians in the community," Levy said.
The company provides products direct to consumer by phone and online, as well as through physician referral. The company's revenue comes from third-party payments from Medicare and private insurance companies. A bill passed by Congress in 1993 entitled diabetics with Medicare to receive a pair of therapeutic shoes and cushioned insoles every year.
Levy said they provided 7,000 pairs of shoes last year. The company has developed relationships with five manufacturers to provide customers with more than 100 different styles. But one force behind the company's growth has been diversifying their product mix to include braces, mobility equipment and even erectile dysfunction aids.
Levy said they chose to relocate to Reynold's Crossing because of its proximity to Henrico Doctor's Hospital and Bon Secours Health System.
"We are very much interested in developing a much bigger footprint in the Richmond community," Levy said. "We wanted to be closer to where the medical community is."
The Reynold's Office Building has a total of 200,000 square feet and is 75 percent leased, according to Mark Douglas, a broker with Thalhimer. Douglas said there are also several leases out waiting for signature. The average lease rate is $24.50 per square foot per year, Douglas said.
Al Harris covers commercial real estate for BizSense.