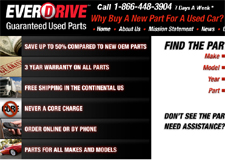 Not everyone is hunkering down. EverDrive, a Chesterfield business that serves as the Match.com of used car parts, hired 10 workers in March and is looking to bring on five more. In April, the company is rolling out a new feature that will let any customer in the lower 48 states buy a used engine or transmission online, have a tow truck come pick it up and bring it to a mechanic, and return the vehicle – all without having to make a call or get up from the easy chair.
The challenge now is getting those workers trained so they can handle the flood of calls, said the ever-upbeat president Joey Woodfin. (For background, please read a September story about EverDrive here.
Below is an edited transcript of an interview with Woodfin.
Richmond BizSense: When we last spoke in September, you said business was good, but it sounds like you didn't anticipate it'd be this good.
Joey Woodfin: The call volume is crazy. It's been a record. In January and February, we were up at least double last year.
RBS: Why so busy?
JW:I think our marketing people have figured out a lot of the web marketing and e-commerce. And our retail partners have made major strides in what they put on point-of-sales. [The company sells used parts through stores such as Pep Boys and AutoZone.] Plus, people are becoming aware of used-car parts.
RBS: The business was started in 2002. Is the business breaking even?
JW: I try not to talk a lot about finances, but I can tell you things are very promising. I can say this safely: we have had losses over the last six years. We definitely are seeing that curve and heading in the right direction.
RBS: What were some of the challenges you've worked through?
JW: When you don't have control over your sales channels or your sales partners, you're at their mercy. It's their priorities and their pace. That's the biggest reason. But with the website, we're 100 percent in control of things. And we've grown nine times what times was prior year off the website.
RBS: That's great to hear. But looking ahead, are you worried at all that when the economy rebounds, people will be less thrifty and the market for used car parts will dry up?
JW: My family was in this business before the depression, so we know what happens to the used parts industry. And there is a really wide pendulum. But even if the economy is really good, when people trade in vehicles, the investment is still worthwhile to put an engine in to trade it. You get something even on trade. We're also an obscure industry – and just to get them to think of a used part is challenging, but the awareness is growing.
RBS: Most businesses are pulling back on advertising to save cash, but could you be hitting that even harder?  Is it time to sponsor a NASCAR event?
JW: My job every day is not to be too wrong. How much load the company can take? Our tendency is to spike very quickly. We have 500 customers a day we cannot take care of on the phone. You think, my gosh, the average transaction is high – so that stings.
RBS: Well, if a call center is what you need, don't companies outsource that to India?
JW: I like running it and having control. I'm not saying I wouldn't, but I love having it here. It's fun. Vibrant. Good for the company.
RBS: Let's talk about your new feature, allowing anyone to sit at home and arrange to have a new transmission or motor installed without getting up from the couch?
JW: We launched that feature 60 days ago, and it will have a hard launch April 1. We do sell it instantly. Each car is priced. Every car and truck, no matter what, has unique installation. The average cost is $1,400.
RBS: So it's all done online now?
JW: It will be in April. Right now we explain the service and then the customer calls. We give them the white glove treatment, so right now we talk to each one on the phone. And that way we can keep from selling big-ticket items they don't need.

Aaron Kremer is the BizSense editor. Please send story ideas to [email protected]