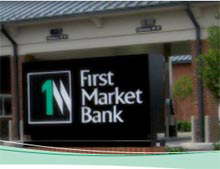 Richmond-based First Market Bank was acquired by Union Bankshares Corp. in an all-stock deal valued at about $100 million. The new holding company will move its headquarters from Bowling Green to Richmond, although that will only bring a few jobs downtown.
Union First Market Bankshares Corp., as the new entity will be named, will have 900 employees, according to company representatives who spoke at a news conference Monday morning.
First Market will remain its own brand, and Union Bankshares will retain the Union Bank & Trust brand. Customers might in the future have access to ATM machines at both banks without paying a fee.
The combined holding company will be able to shave 9 percent of combined costs, according to a news release. Union Bankshares President and Chief Executive G. William Beale said that in the past such deals have led to closures of duplicate branches but that it is not clear right now whether the new company will close any of its 12 Richmond area Union Bank & Trust branches or whether First Market will close any of its branches.
Beale will remain president and chief executive of the combined company, and David Fairchild, the current First Market chief executive, will be president as well as remain the head of the First Market subsidiary.
Shareholders of First Market, which is privately held, will receive 6.7 million shares of Union common stock, which at $14 a share is worth $93.8 million. That gives them 33 percent of the shares, according to a news release. Markel Corp. will own an additional 10 million shares of preferred stock, according to Dave Fairchild.
The board of directors in the new company will be expanded to include James Ukrop, Steve Markel and Fairchild.
Combing banks can be tricky. In its annual report to stockholders, Union Bankshares said "the company may lose customers or the customers of acquired entities as a result of an acquisition; and that Company also may lose key personnel."
First Market has 40 branches throughout Virginia, with 26 located inside Ukrop's supermarkets. First Market is jointly owned by Markel Corp. and Ukrop's Supermarkets. Union Bankshares Corp. has a larger geographic reach, with 58 locations. Of those, five are in Hanover County, four are in Henrico and three are in the Midlothian section of Chesterfield.
Bankers from both companies said they started discussing the deal in July.
"This didn't have too much to do with the current turmoil," Fairchild said. "The cost of regulation has gotten more expensive," he said, adding that the combined bank will create cost savings.
Both banks received TARP money: Union Bankshares got $59 million, and First Market received $34 million. Beale said no TARP money was used in the all-stock deal.
With total assets of $1.3 billion and liabilities of $1.21 billion, the book value for First Market is $89.4 million. According to Investorpedia, the book value is the total value of the company's assets that shareholders would theoretically receive if a company were liquidated, and thus a good barometer of a company's current condition.
With Union Bankshares stock trading at about $14, that means the book to value ratio is just above 1:1. Banks traditionally have sold for closer to two times book value, according to several sources.
When asked why the multiple was lower, Fairchild said that those prices were paid 18 months ago and that as the Union Bankshares stock price grows, so will the multiple.
Sources said that a price below book value would suggest that the bank is in less than stellar shape, but that a 1:1 value is not, on its face, worrisome. They did say it might mean the owners doubt how much more growth there might be.
Neither chief executive said anything in a news conference about the quality of assets on the books, but it's likely both banks will have to contend with souring mortgages and commercial loans.
Shares of Union Bankshares, which are publicly traded on NASDAQ, closed at $13.43, down 5.6 percent on the day. The Dow, meanwhile, closed down only 3.27 percent.
Some interesting nitty-gritty financial data about both banks:
According to fourth quarter data filed with the Office of Thrift Supervision, First Market Bank has $708.5 million in mortgage loans, including $48 million in 1-4 dwelling units, $16 million in multifamily dwelling units and $54 million in nonresidential property.
The bank also has $324 million in non-mortgage loans and $117 million in commercial loans. The bank has $1 million in repossessed assets, including $869,000 in land.
According to its SEC filings, Union Bankshares had at the end of last year $292 million in residential loans, $550 million in commercial loans and $403 million in construction loans. Their total real estate loans were valued at $1.5 billion. Net income in 2008 fell 26 percent from $19.7 million in 2007 to $14.5 million.
Union Bankshares Corp had assets of $2.03 billion and liabilities of $1.809 billion. That means its book value is around $221 million, or 2.4 times that of First Market Bank.
According to Banktracker.com, Union Bankshares had trouble assets worth $22,711,000 at the end of 2008. Banktracker.com defines trouble assets as "adding the amounts of loans past due 90 days or more, loans in non-accrual status and other real estate owned (primarily properties obtained through foreclosure)."
BizSense's take on this deal:
The new entity has to consider closing Union Bank & Trust branches and converting those customers to First Market Bank, unless those branches were in parts of town where First Market didn't already have a retail presence. Why would the new bank run competing branches against itself, after all? That would also cut the cost of those branches, which, with real estate and employees, is probably substantial.
First Market had a nice expansion strategy with Ukrop's Supermarkets – but now that the supermarket chain is slowing its growth (closing a store outside Williamsburg and, if conditions don't improve, possibly one in Roanoke), we wonder how valuable that partnership is. And when it looks to head into new markets, surely it wants to do so with only one of the brands.
This deal might also provide some liquidity for First Market's owners. It's hard to sell an entire bank, and a lot easier to sell shares of a publicly traded bank, although they will have some restrictions on how much they can sell and how soon.
Several Richmond firms help assemble the deal.
For Union Bankshares, Keefe Bruyette and Woods provided financial advice and LeclairRyan provided legal advice.
For First Market, Cary Street Partners provided financial advice and McGuireWoods legal advice.