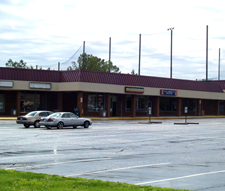 A Chesterfield shopping center has filed for Chapter 11 bankruptcy protection.
Rockwood Square LLC, which owns the Rockwood Square strip mall on the 10,000 block of Hull Street (near the corner of Courthouse) filed for bankruptcy protection late last week.
The strip mall includes a Big Lots, a nail salon and an insurance agent. There are four vacancies, but longtime tenants said that business is about the same as in years past and that the vacancy rate is typical, too.
In its filing, Rockwood Square lists 20 unsecured creditors. The largest is Jord Construction, a Powhatan construction company that is owed $47,275.49 for renovations to the facades of the retail space. In all, unsecured creditors are owed about $121,000.
"They must have got caught in some bad economic times," said Bill Farrar, president of Jord Construction. "They paid promptly until last year."
Rockwood's owner, Christopher White, also improved the parking lot last year, according to a shop owner. White could not be reached for comment. (RBS called his bankruptcy lawyer and asked several contacts to e-mail him directly.)
Rockwood also owes $18,933 to Chesterfield County, $5,500 to Richmond-based MG Miller Valuations and $3,700 to Al Commercial Grounds.
Because the unsecured creditors aren't owed that much, it's possible that the company is having trouble making payments to secured creditors, which could be a bank or other lender.
Roy Terry, a bankruptcy attorney with Durette Bradshaw, is not familiar with this particular case, but he said that when a commercial landlord files for bankruptcy protection, it is often to control the sale of a property to benefit from existing equity or to modify the debt so the landlord might remain the owner.
If the landlord cannot come up with a new financing agreement, the lender might in some cases obtain relief from the bankruptcy court to foreclose on the property, Terry said.
Terry also said that in bankruptcy tenants retain the terms of their leases even if a new owner takes control.
Although the fast-food restaurants near the strip center appear to be thriving, the economic strain is evident in several vacant commercial buildings. A day-care center at the northern edge of the parcel, also owned by White, is available for rent. And a vacant restaurant in the parking lot has not attracted any new takers. It was a Great American Buffet and before that a Western Sizzlin', according to a clerk at the Big Lots. Across the street, an empty Wachovia branch is awaiting public auction.
Susan Groves, the manager at All American Insurers who has worked in the strip mall for more than a decade, said the shopping center is in better shape now than several years ago. She did not know that the owner was having any trouble. Business at the insurance company is steady, she said.
Rockwood Square also houses Giuseppe's Pizza and more recently a Chesterfield Christian Center.
The owner of the nail salon said she pays $14 per square foot per year.
Aaron Kremer is the BizSense editor. Please send news tips to [email protected]