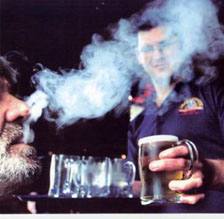 When the state ban on smoking goes into effect Dec. 1, don't expect to find too many restaurants where smoking is still allowed.
The ban isn't absolute: A restaurant can allow smoking as long as it is confined to a physically separated room with its own ventilation system. But it doesn't seem like many owners in Richmond will do the work necessary to allow smoking patrons to light up.
With most restaurants unable or unwilling to make smoking available after the ban goes into effect, those that do could find a niche in the city's competitive restaurant market by being smoker-friendly. On the other hand, with smoking rates on the decline, so goes the demand for smoke-friendly seating. Many restaurants might figure it isn't worth the cost, hassle or space to keep ashtrays on the tables.
"I don't think there will be many places that change the very structure of their building to accommodate smoking," said Charlie Diradour, whose company Lion's Paw Development has built-out restaurants in Richmond's Fan District including Deluxe and Kuba Kuba.
Diradour, who also owns the Fan buildings that house Buddy's and part of Joe's Inn, said he doesn't know of any restaurant owners who are planning to make the required improvements. According to Diradour, it isn't because of the remodeling costs.
"Restaurant owners across the city have been waiting for the government to make this decision so clients who do smoke wouldn't have [the owner] to blame it on," Diradour said.
Tim Chiocca, owner of Chiocca's Downstairs Deli, at Belmont and Kensington avenues, sees the issue differently.
"The ban is going to have a pretty big effect on my business," Chiocca said. "Three-quarters of my customers smoke."
Chiocca said he has a regular happy hour crowd that comes to drink, watch sports and smoke. Mostly because of the small amount of space, Chiocca said he would be unable to remodel the restaurant to meet their needs.
"No way am I going to be able to do a separate room with separate ventilation," Chiocca said.  "I don't own the building, so making those renovations without help from the landlord – I'll just have to adhere to what the government tells me to do."
Richmond BizSense was able to confirm at least one Richmond restaurant that plans to offer a smoking section after the ban takes effect. Penny Lane Pub, located downtown at Fifth and Franklin streets, occupies two floors and currently has a bar and seating areas on each one. An employee said the owners intend to allow smoking upstairs, but none of them were available for comment.
Meanwhile the owners of Europa, in Shockoe Slip, are deciding whether to make indoor smoking available.
"Europa's basement can be made into a smoking area relatively easily, as the ventilation is already separate. All we would need to do is add a door," said Michelle Williams, one of the partners of Richmond Restaurant Group, which owns Europa.
Smoking is already barred inside another of the group's restaurants, the Hard Shell, but allowed on the patio. As for the group's other two restaurants, deLux and The Hill Café, they will go non-smoking once the ban goes into effect, said Williams.
"Ultimately, we haven't decided what we will do yet with Europa," Williams said.
Considering the relative ease of creating smoking and non-smoking areas at that restaurant, the fact that the choice isn't obvious suggests other owners are still weighing the pros and cons.
For more on how the ban will be enforced, check out this report from WSLS Channel 10 in Roanoke.

Al Harris is a BizSense reporter. Please send news tips to [email protected]