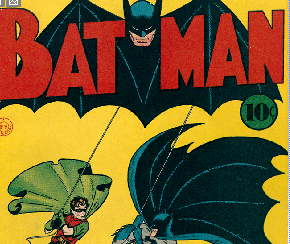 Surrounded by hundreds of thousands of comic books, Brett Carreras shows the crown jewel of his inventory. The restored copy of Batman No. 1, the first appearance of the Joker, is protected by a hard plastic case (Batman first appeared in Detective Comics #27). Carreras shares ownership of this particular comic 50-50 with a business partner. First published in 1940 and sold for 10 cents, Carreras is hoping that the rare issue will fetch $10,000 when it sells on an online auction site.
"That's pretty nifty for a bunch of old paper," said Carreras, owner of Brett's Comic Pile since 2003.
But it could be some time before he actually finds a buyer, as the market for comic books and other collectibles has cascaded along with the rest of the economy. About 35 percent of comic book stores in Virginia have gone out of business since the downturn, Carreras said.
"We are seeing a major drop-off, to the tune of 80 percent, and we got better stuff and we are shipping it faster at better prices," he said. "But we don't have the customers for it."
Carreras, who sold his first comic when he was 15, sells online, at trade shows and at Velocity Comics downtown on Broad Street, where he shares half the space.
Business was booming in fall 2007; Carreras said the store shipped 16,000 to 18,000 comics a month. This past fall they averaged between 2,500 and 3,500 issues a month.
Carreras, who employs a manger and a handful of part-timers, is using the downtime to reorganize the inventory. The pile is about a million comics deep, with most of them stored at Carreras's two warehouses downtown and in Church Hill.
One of the primary outlets for Brett's Comic Pile was eBay.com, up until December, when Carreras pulled the listings. The downturn in the economy prompted anybody with a box of comics to try and sell them online. As a result, prices tumbled and Carreras's margins grew thinner.
"When we sell [comics] to stay in business and pay our employees and other people sell their comics so they can put food on the table, the price gets really flat-lined," he said. Now they are selling on an online site that is geared toward comic books.
Just like houses and cars, the recession has created a buyers' market for comic books.
"We've been offered a lot of collections at unbelievable prices," Carreras said. But a collection of a thousand comics usually includes about 10 that are of any interest, he said.
Recently, Brett's Comic Pile rented a store in a West End strip mall and held a one-day blow-out sale to get rid of excess inventory. Carreras sold comics at the event for 25 cents. Customers could also fill up a box that holds up to 400 issues for $50.
"When a typical comic book is four bucks at a retail store, someone paying 13 cents got a good deal because we had too much inventory," Carreras said.
While Carreras waits for sales to bounce back, he can at least depend on movie tie-ins for periodical sales boosts. The recent movie "Watchmen" was based on a popular 12-issue series that was published almost 25 years ago. Along with the movie came renewed interested in the original graphic novels.
"Those 12 comic books went into hyper-demand," Carreras said. "Issue number one jumped from $4 dollars each, trying to give them away, to being $35 with buyers lined up around the block."
Brett's Comic Pile also hosts the Virginia ComicCon four times a year. The next one is May 31.
Click here for more video from the Comic Pile.
Al Harris is a BizSense reporter. Please send news tips to [email protected].