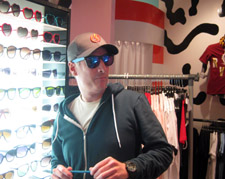 Vacancies are on the rise in Carytown, and some businesses have joined together to save money and boost income. BizSense counted 25 vacant street-level storefronts in Carytown, for a vacancy of 13.9 percent. That is up from September, when we counted 17 empty or unused storefronts.  With vacancy up and national statistics indicating a significant pullback in consumer spending,  some Carytown merchants have turned to creative methods in their quest to remain profitable.
Women's shoe store Que Bella left its previous location in Carytown and moved their inventory into Pink, a high-end boutique across the street, earlier this year.
"It's been a wise move," said Pink co-owner Deborah Boshen. "It helps sell an outfit when you have the right shoe to go with it."
Under the arrangement, Que Bella owner Heather Teachey splits the rent with Pink, and the stores remain separate businesses. Boshen said she believes the combined space has boosted the number of people coming into the store, helping both retailers emerge from a slow six months of consumer spending.
"She brings her customers and our customers shop with her," said Boshen.
Elsewhere in Carytown, Bang-On owner Chuck Mugler (pictured above) is dividing his store to make room for another business. Bang-On sells customized T-shirts, the other retailer will sell consignment and vintage clothing.
"We thought it would be a good combination, that the two would fit well together, and at the same time save money on rent and other expenses," Mugler said.
The consignment side will be owned by Chaz Harpman and will be trading under the name Kitsch. Mugler said Harpman had a soft opening a couple of weeks ago but plans to officially open next month.
Under their agreement, the two retailers will split the $1,800 monthly rent and utility bills. Mugler said it would be a big help at a time when sales are down 40 percent to 50 percent compared with this time last year. Mugler is also hoping it will bring in new customers.
"The idea is that we are going to get more business with people coming through wanting to check out two different things instead of one," he said.
Mugler said foot traffic in Carytown has been a problem in recent months, which he partly blames on the rising number of vacancies.
"Anytime you have a lot of closings, it's going to hurt our traffic, too," he said. "People come down and see empty stores – it doesn't give you a good feeling."
Recent Carytown closings include Chandler's Tailored Apparel, Fringe Home, e3, Home Gallery, Karsen's Restaurant, Carytown Seafood and Richmond Piano. Richmond Piano moved to a new location in Glen Allen. According to a work permit in the window, the Carytown Seafood location is under renovation and will reopen as a Greek take-out restaurant.
Also in Carytown, grooming salon and pet store Dogma has moved into the long-vacant store at Cary and Nansemond streets previously occupied by a home and garden center.