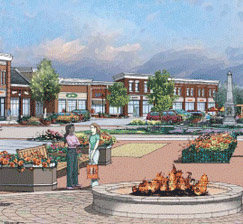 Movie buffs and those with buff bodies now have two new haunts at Westchester Commons near the intersection of routes 60 and 288 in Chesterfield County.
A new theater complex, Westchester Commons Stadium 16, will hold a grand opening on Friday, April 17, with first-run features that include "17 Again," "State of Play" and "Crank High Voltage." Moviegoers will enjoy free popcorn and soft drinks with each paid admission from April 17-26.
The theaters cover about 66,000 square feet and include more than 3,200 seats. Stadium seating elevates each row for an unobstructed view of the screen, and features high-back rocking chairs with cup-holder armrests that can be moved from between seats.
Stadium 16, owned by Regal Entertainment Group, boasts a Real D digital projection system, enabling the theaters to show 3D presentations, such as "Battle for Terra," opening on May 1, Disney-Pixar's "Up," coming on May 29, and "Ice Age: Dawn of the Dinosaurs," which will open on July 1.
The theaters hosted several preview events to benefit local charities, and will finish those events on Wednesday, April 15, with "NBC12 Day at the Movies," sponsored by NBC12, with proceeds benefiting Central Virginia Foodbank. Admission is $1 or two canned food items. Popcorn and soft drinks will be available for $1 each. Featured movies on that day include "Coraline," "Daddy Day Camp" and "Surf's Up."
Gold's Gym recently opened the franchise's newest fitness center at Westchester. The 45,000-square-foot facility is the latest gym opening along Midlothian Turnpike, from the Powhite Parkway to Route 288. In January, Gold's Gym closed its Research Road facility and moved into the Shops at the Arboretum, taking the place of American Family Fitness (AFF), which moved west to the Stein Mart Festival Shopping Center. AFF will move once again when it opens its new 65,000- square-foot facility, which is currently under construction at Midlothian Turnpike and Woolridge Road. It is scheduled to open this fall.
This story first appeared in the Chesterfield Observer, which is an RBS news partner.