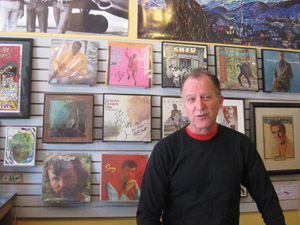 After working at Plan 9 for 16 years, Jay Leavitt decided it was time to start his own record shop.
"I just felt maybe there is a need in this town for a little niche store that just sells vinyl, and thought maybe I could hopefully eke out a living doing it," he said.
Deep Groove opened for business Wednesday in a 325-square-foot space at 317 N. Robinson St. The retail space was previously occupied by dog treat bakery Beggar's Bones. Start-up costs for the store were less than $10,000, Leavitt said.
Leavitt pulled about 1,000 records from his personal collection of 5,000 to stock the store. Only 5 percent of the records for sale are new releases or reissues, but he hopes to expand the new inventory to about 25 percent. In addition to selling, Leavitt will buy used records.
Music stores in general have been shaken by the tremendous rise of the mp3. Richmond-based Plan 9, where Leavitt was most recently general manager, has closed three stores in the past six months. The 30-year-old music store chain once had 10 locations. It now has four.
According to the Recording Industry Association of America's year-end shipment statistics, compact disc sales declined 26.6 percent in 2008. Sales of LP and EP records increased more than 147 percent.
Leavitt said he has noticed the resurgence of vinyl over the past three to five years. While working at Plan 9, he said, he noticed the ratio of vinyl sales to new CDs get closer and closer together almost on a daily basis.
"The CD is a dinosaur that is slowly lumbering towards extinction," Leavitt said. "Five years from now, there will be very few places, if any, that sell them anymore."
As for records, they'll be around forever, Leavitt said.  The artwork, the warm sound, and the experience of putting the needle in the groove are all part of vinyl's allure.
"Kids are just discovering the same experience I did when I was their age," Leavitt said.
Al Harris is a BizSense reporter. He has a sizable record collection. Please send news tips to [email protected]